Project: Traveler is a high altitude balloon research project of Custom Digital Services, LLC. Based in Hutchinson, KS, Project: Traveler has been flying and chasing balloons all over the midwest since 2001.
From the beginning, education has driving factor behind the Project: Traveler group, working with elementary schools and hosting the Great Plains Super Launch and symposium in 2004, 2006, 2010, and 2014. With our extensive set of hardware, software, and tracking equipment, coupled with over ten years of experience, Custom Digital Services and Project: Traveler can help bring space into your classroom.
---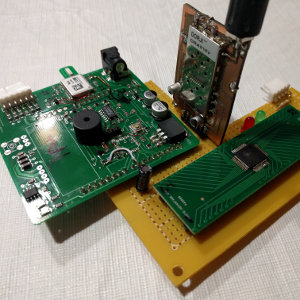 Flight 32 will be conducted as part of the GPSL 2016, held near Granbury, TX from the Pecan Plantation airport. Due to limited trackers from our group, we will be flying in conjunction with Paul Verhage from NearSys. Many of the flight parameters are not known due to the shared flight and unknown parachute, etc.
Table of Contents
Flight Parameters
Launch Date/Time
Saturday June 18th at 9:00am (14:00Z)
Alternative Date
n/a
Launch Site

Pecan Plantation Airport near Granbury, TX (32.3541N, -97.6761W)

Capsule 1 (Track)


144.39MHz

ArduinoTrack (Combined) with RadioMetrix 300mW transmitter and Ublox M8Q GPS, signing W0ZC-11.


Path is disabled above 2,000m MSL.

Capsule 2 (Track)


144.39MHz

New PSOC-based tracker using DRA818V transmitter module and Ublox M8Q GPS, signing W0ZC-9.

Recovery / Misc

Parachute Recovery
Total Flight Weight
Total neck weight on the balloon.
Balloon / Gas
1200g Kaymont
Estimated Burst Altitude
31,000m MSL (101,700')
Estimated Ascent Rate
5.6 m/s (1100'/min)
Estimated Descent Rate
7.1 m/s (1400'/min)
Chase Frequencies
Flight Results
| | |
| --- | --- |
| Launch Date/Time | Saturday, June 18th at 9:09am (14:09Z) |
| Launch Site | Pecan Plantation Airport near Granbury, TX (32.3541N, -97.6761W) |
| Burst Altitude | 28,09m MSL (92,125') |
| Average Ascent Rate | 5.6m/s (1,105'/min) |
| Measured Descent Rate | 4.3m/s (854'/min) measured at 2,102' MSL. |
| Touchdown Site | 31.9365N, -98.365W |
| Touchdown Time | Saturday, June 18th at 11:28am (16:28Z) |
| Recovery Time | Saturday, June 18th at 1:22pm (18:22Z) |
| Distance Traveled | 76km (47mi) |
| Total Flight Time | 2 hours, 13 minutes |
| Downloads | W0ZC-9 Log, W0ZC-11 Log, Flight Path (KML), Winds Aloft Forecast |
Tracking Predictions
June 17
Today's predictions have hooked back to the west slightly. Surface winds are predicted to by calm at 9:00am for launch.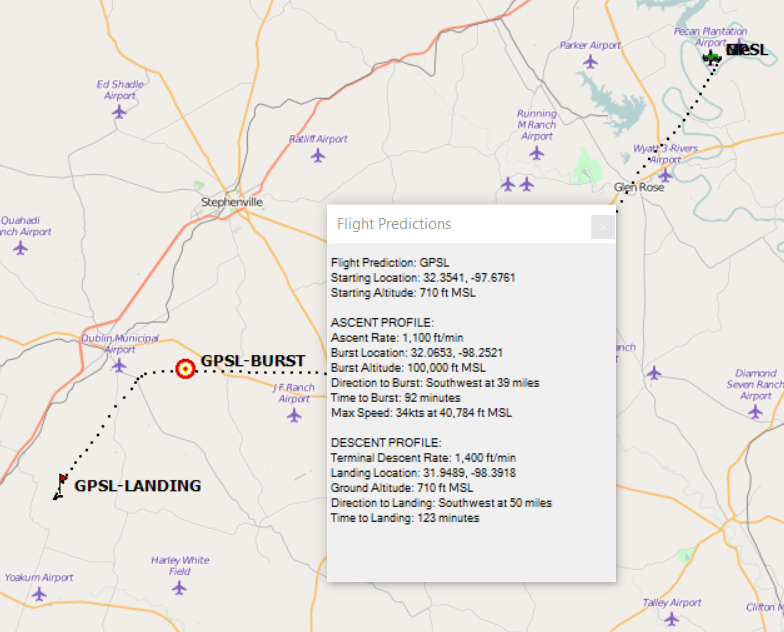 June 16
The track on Thursday lines up closely with those predicts being run by other groups predicting for GPSL 2016.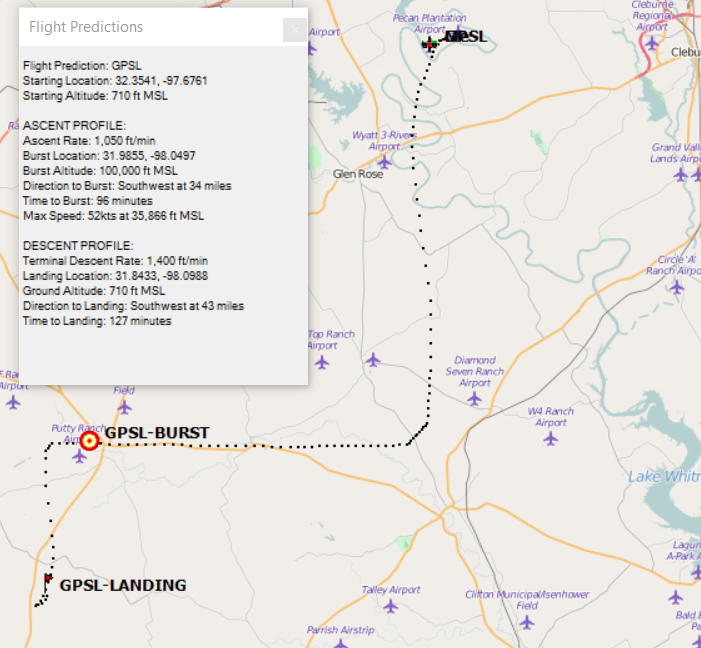 Photo Highlights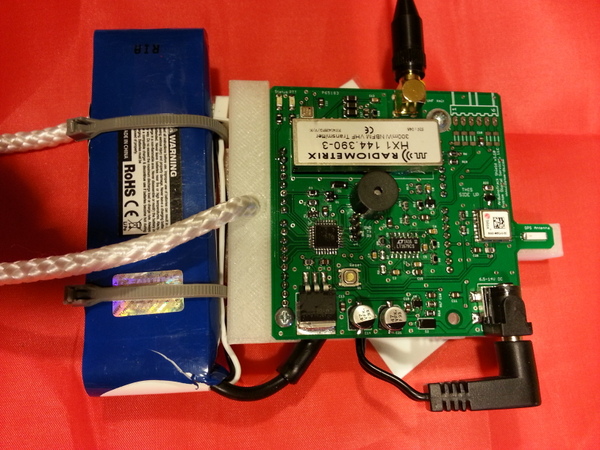 The completed ArduinoTrack board on the newly designed board carrier that was 3D printed. The battery is a 7.4V, 1.8AH Lipo and will run the tracker for a solid 8 hours, even at freezing temperatures. The rope passing through is the load line that connects directly to the balloon above and the streamer below.