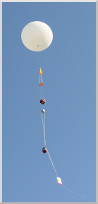 Project: Traveler is scheduled to get back into the ballooning business in the spring of 2010. After a short life-break, Zack, Jon, and the rest of the crew are ready to sniff some Hydrogen. The primary areas of focus include developing a better web-presence, designing an Arduino based APRS controller/TNC, and re-writing our custom tracking and mapping software to use current technologies.
Project: Traveler generally flies out of the Hutchinson, KS area. If you're intersted in ARHAB (Amateur Radio High Altitude Balloons), electronics, ham radio, meteorology, or just about any other area of science, we'd like to invite you to join us.
NEW! I now have a live tracking page on the website for all of you armchair chasers.