Project: Traveler will be spending the fall/winter building out a new generation of ArduinoTrack tracker boards in preparation for the next flight.
Update: The new controller boards are in and have been tested. They're ready for a test flight, which has been scheduled for Saturday morning, February 7th. If the surface winds cooperate, we'll push for a later launch date, but that is yet to be determined.
I also have a RaspberyPi that I would like to fly with a camera onboard, if I can get the enclosure built in time. That would fly as part of Capsule 3 on this string.
| | | |
| --- | --- | --- |
| Launch Date/Time | Saturday, February 7, 2015 at 7:30am (13:30Z) | |
| Alternative Date | n/a | |
| Launch Site | Crossroads Christian Church in Hutchinson (38.1015N, -97.9399W) | |
| Capsule 1 (Track) | ArduinoTrack with Radio Shack HTX-200 HT with vertically polarized dipole. Canon A570IS camera running CHDK. GoPro Hero pointed vertically. W0ZC-11. Transmitting on the 144.34 alternate frequency. | 0.984kg |
| Capsule 2 (Track) | ArduinoTrack with Radio Shack HTX-200 HT transmitter and Telit SL869v2 GPS, signing W0ZC-12. Sparkfun 434MHZ transmitter module, transmitting AM modulated RF on 433.895 +/- 10khz. The 434MHz beacon sends the W0ZC callsign every 5 seconds. | 0.594kg |
| Capsule 3 (Track) | ArduinoTrack (Combined) with RadioMetrix 300mW transmitter and Telit SL869v2 GPS, signin W0ZC-13. A Raspberry Pi computer is equiped with a downward facing camera and takes still photos continously throughout the flight. | 0.456kg |
| Recovery / Misc | Rocketman Parachute (.20kg) and misc rigging (.15kg). | 0.35kg |
| Total Flight Weight | Total neck weight on the balloon. | 2.384kg |
| Balloon / Gas | 1200g Kaymont with 5.0cu meters (180cu ft) Hydrogen. Neck lift (3.9kg) / Net lift (1.5kg) | |
| Estimated Burst Altitude | 30,480m MSL (100,000') | |
| Estimated Ascent Rate | 5.3 m/s (1040'/min) | |
| Estimated Descent Rate | 7.1 m/s (1400'/min) | |
| Chase Frequencies | 446.000MHz | |
February 6
The upper-air winds seem very stable between the HUT airport and the ICT airport sounding locations, as well as between the 12:00Z and 15:00Z times. We'll be splitting the difference between both of those factors, but I don't anticipate any surprises.
For the chase teams, plan on departing from the church parking lot shortly after release. We'll be traveling down K-96 into Wichita. In order to stay horizontally as far away from the balloon as practical, anticipate jogging over to I-135 and head south to the K-15 exit towards Derby. Once in Derby, we'll make a final assessment of expected landing sites.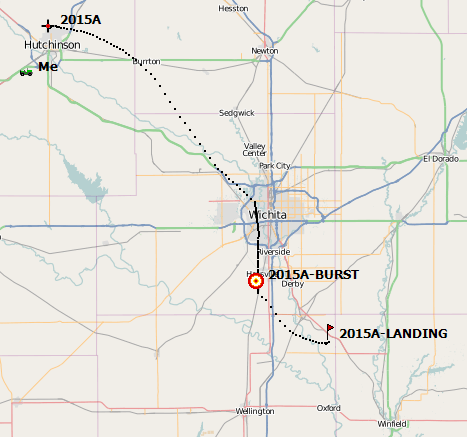 February 5
The tracks continue to contract closer in towards Wichita. I don't see a landing within the city likely, but we will be aiming to under-fill rather than over. A slower ascent rate will cause the balloon to carry further southeast than these plots show.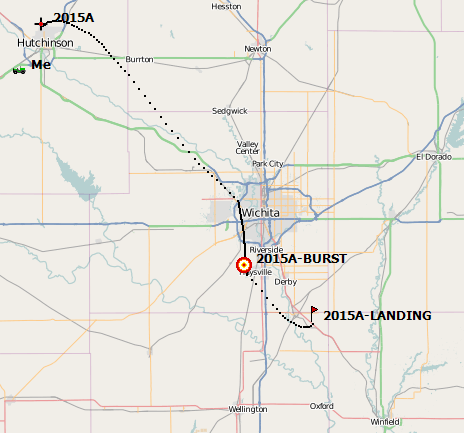 February 4
We're back to the track that was originally forecast for February 1, with a landing in the middle of Derby/Wellington/Winfield. Other than a couple of rivers that wander through the area, most of the potential landing sites look to be accessible to within a half mile. The surface weather is looking better each day with morning lows well above freezing (4C) and warm afternoon highs around 22C. Light surface winds out of the southwest should make the launch a breeze (okay, pun intended).
The biggest issue that I see with the current path is that we are going to struggle to hear the balloon's RF signal as we are sitting directly under it.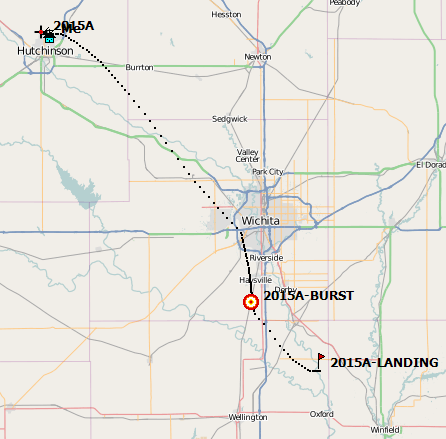 February 3
Still following the same path from about the past week. Saturday looks like a beautiful day to chase and recover a balloon!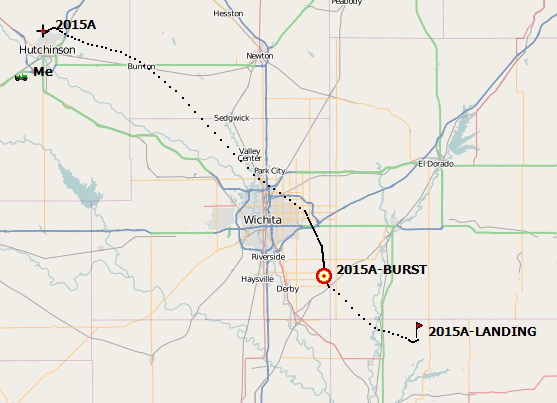 February 2
Continuing the same track as the past couple of days.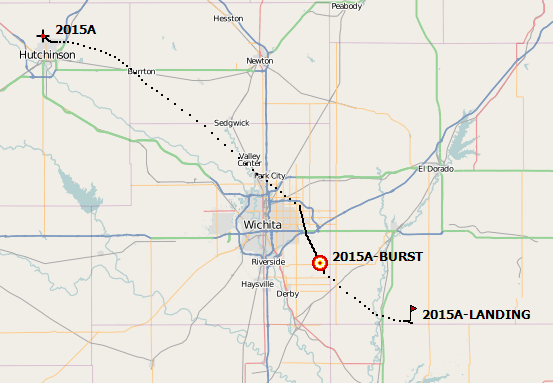 February 1
Today's forecast continues on a south-east track, but the wind speeds have decreased to the point that Oklahoma looks well outside of the question, and the city of Wichita is beginning to be a concern. If this track/trend continues then we will be shooting for under-inflating the balloon to extend out further. Surface weather continues to look excellent.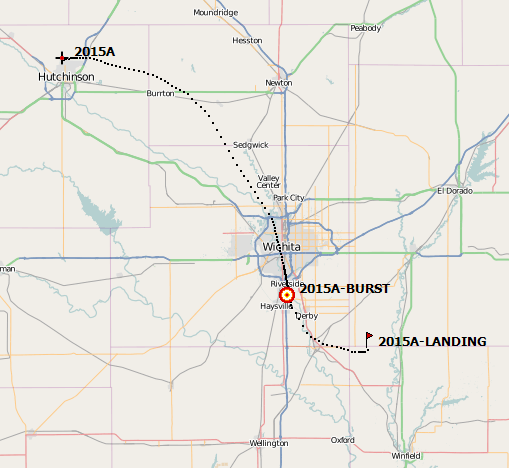 January 31
A south-east track is looking increasingly likely. Today's peak wind is reporting at 36.0m/s at 12,000m MSL. Most of the mid-level winds are moderate, but not excessive. Surface weather continues to look better and better each day.
January 30
The track shifted back up in to Kansas, and the surface weather continues to be very favorable.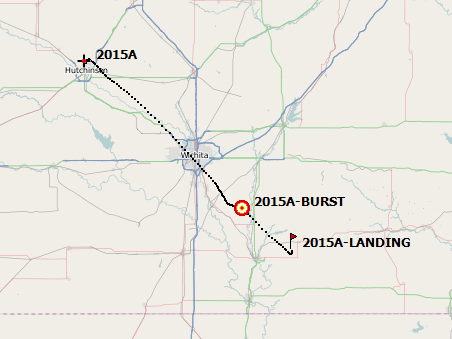 January 29
I'm seeing the same general track from last night, but the surface weather is showing warm and well above freezing during the day. The chance of snow is gone, and the morning low should be right about freezing.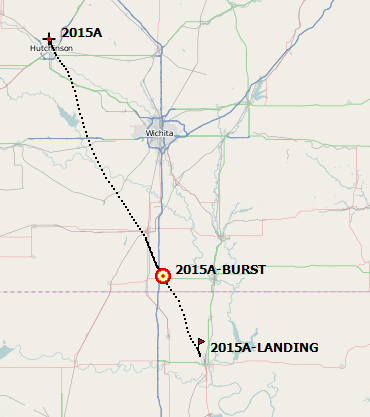 January 28
The track has turned sharply south, with a predicted landing about 25 km west of Enid, OK. The surface weather has been cooling with a high just above freezing. The Enid weather is predicting a possibilities of flurries in the vacinity.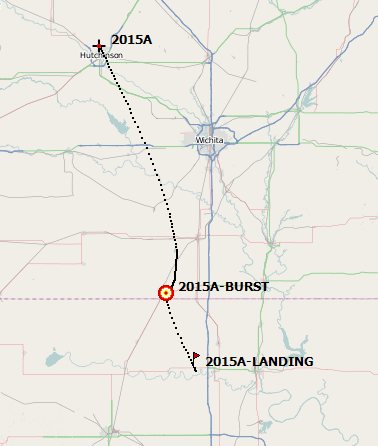 January 24
The same general track from yesterday, but slightly elongated mostly because of adjusting the ascent rate based on the extra third capsule. The long-range weather forecasts are holding out too for a decent Saturday afternoon.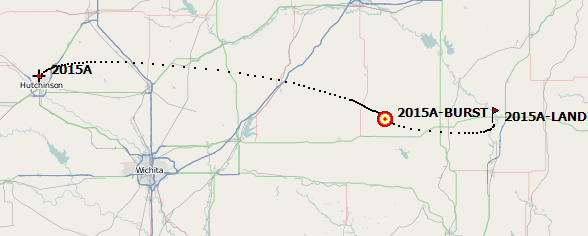 January 23
The initial tracks look like they will stay well clear of any major cities or highways.

Launch Date/Time
S

aturday, February 7th at 8:16am (14:16Z)

Launch Site

Crossroads Christian Church in Hutchinson (38.1015N, -97.9399W)

Burst Altitude
30,940m MSL (101,509')
Average Ascent Rate
5.74m/s (1130'/min)
Measured Descent Rate
6.51m/s (1,281'/min) with a very little latex attached and no fouling.
Touchdown Site
37.5025N, -97.4600W
Touchdown Time

S

aturday,

February 7th

at 10:19am (16:19Z)
Recovery Time

S

aturday,

February 7th

at 10:25am (16:25Z)
Distance Traveled
79km (49mi)
Total Flight Time
2 hours, 3 minutes
Downloads
W0ZC-11 Log, W0ZC-12 Log, W0ZC-13 Log, Flight Path (KML), Winds Aloft Forecast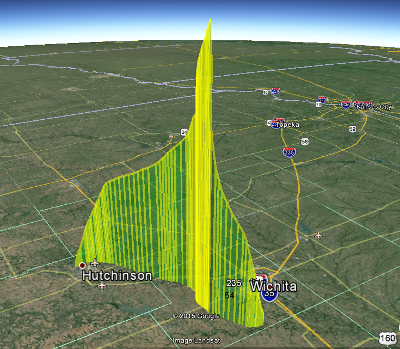 We had another beautiful morning for a balloon launch. The temperatures were well above freezing, and the winds were almost calm, out of the southwest. On this flight we had an old W0ZC-11 flying with an early version of the ArduinoTrack firmware and an Inventek GPS. The W0ZC-12 and -13 trackers were based on the new ArduinoTrack v101 boards and v2.0.0 firmware.
Throughout testing, I hadn't experienced any problems with the ArduinoTracks, up until Friday night when I installed my TNC-X in the vehicle and suddenly couldn't receive any APRS packets from the -13 I was testing with. Obviously at Friday night, there was very little time to troubleshoot the problem and after a few failed attempts to resolve it, I opted to swap out the TNC-X for a KPC-3 in terminal mode, as this TNC was unaffected by the bug.
Saturday morning came and I was seeing very spotty data from the -13 and the -12 refused to make a GPS lock. I opted to make the fly decision assuming that -13 would be available, and that -12 would get a GPS lock once we moved it away from the buildings and put more separation between the three capsules. I also knew that I had the tried-and-true -11 capsule that was running fine.
Jerry assumed a new role as Balloon Master and handled the filling of the Kaymont 1200 with 200cu' of Hydrogen, with Allen's assistance at the gas regulator. Together they did a great job getting the balloon filled and Jon stepped in when it came time to tie off the balloon.
We used an extra-long fill hose (20') between the hydrogen tank and the balloon. The vinyl hose was very stiff in the morning coolness, but it was nice not to have to unload the gas cylinder off the trailer and back up. For future flights, I'd like to wrap the hose in a metalic braid for grounding purposes. Unfortunatly with the asphalt surface that we fill on, there's not too many options to get a good earth ground anyway.
The -12 and -13 corrupted packets appear to be an errant null character that was being appended to the tail end.
The lack of GPS lock on -12 is still a mystery. In hindsight, I wish I had power cycled that unit to see what would have happened.
The quality of the Raspberry Pi camera was little dissapointing to me. A great deal of post-processing was required to color-correct the photos. I also had the resolution turned down in order to maximize the number of photos able to be stored, so the images turned out small and grainy. Next time I will bump it up to full native resolution. The Auto White Balance settings may need to be adjusted also.
Several new features have been included in Balloon Finder all of which worked great.

The descent profile algorithms were updated and performed very well. Had there not been a fence in the way, we almost could have caught the packages.
The bearing/elevation routines were re-integrated from the old version of Balloon Finder and seemed quite accurate based on the visuals that we had on the balloon.
Capsule Construction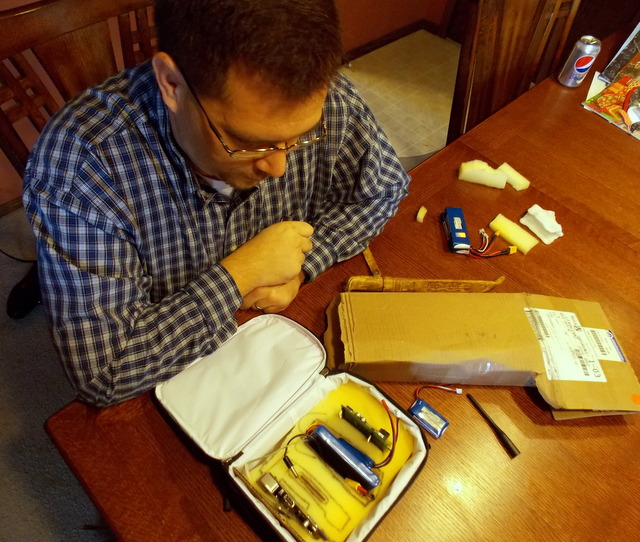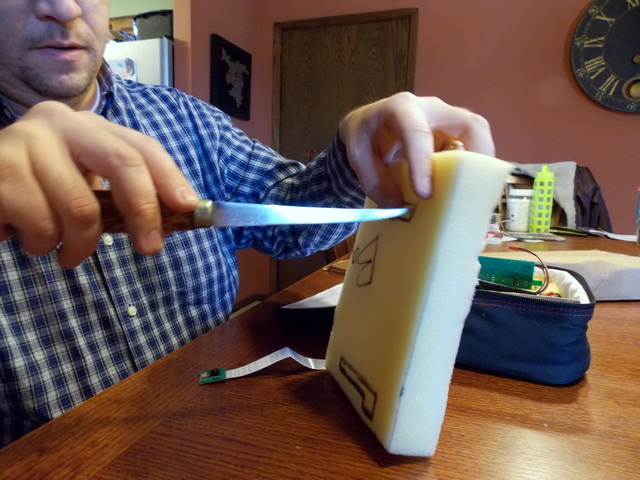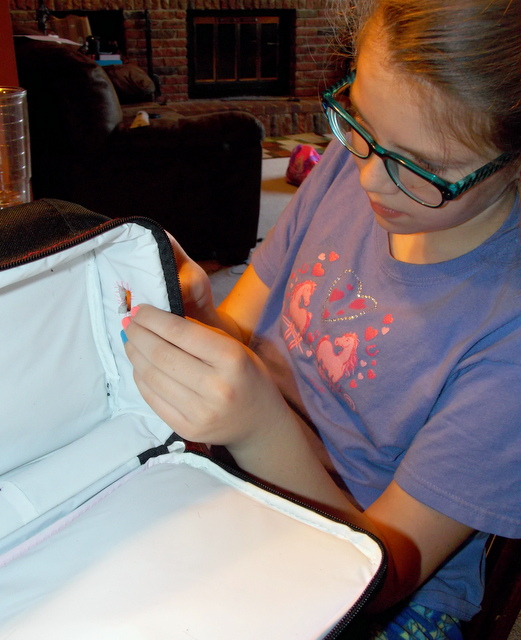 Acacia is sewing up the hole that was cut for the Raspberry Pi camera.
The three assembed packages ready to go. From left to right, W0ZC-11, W0ZC-12, and W0ZC-13.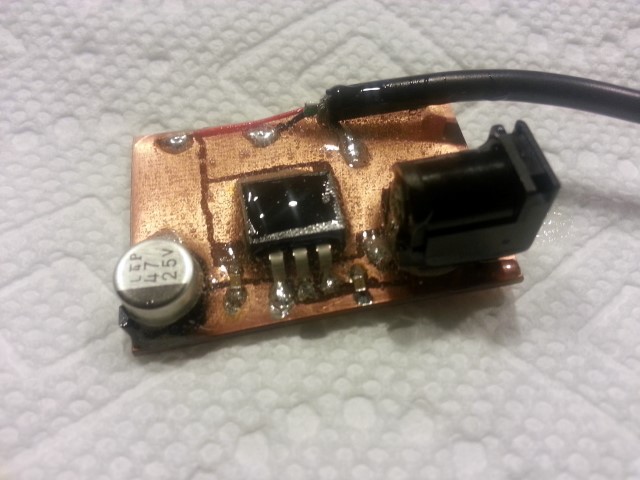 The 5V regulator for the Raspberry Pi, potted in epoxy. This regulated the 7.4V from the lithium battery pack down to 5V to be fed in via the USB port.
Filling and Launch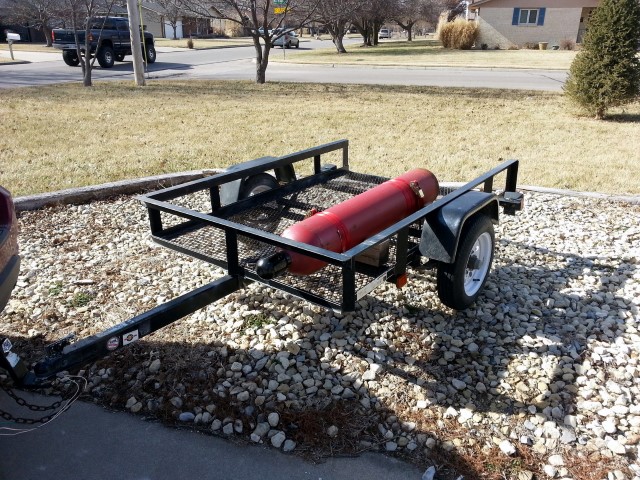 The Hydrogen cylinder strapped in to the trailer. We left the bottle on the trailer throughout the filling this time to eliminate the need to move it around.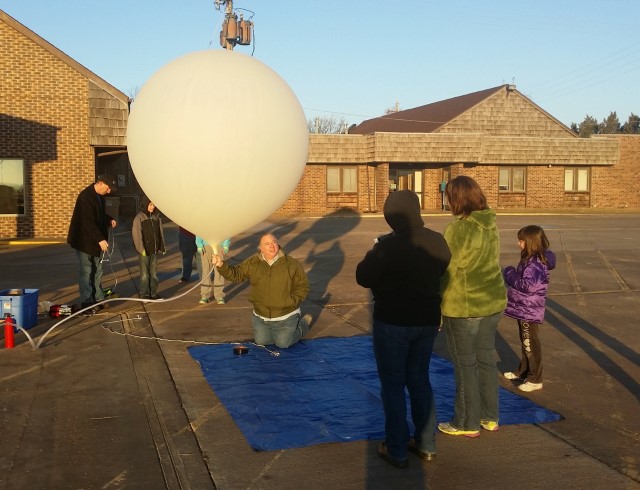 Jerry handled most of the filling of the balloon by himself.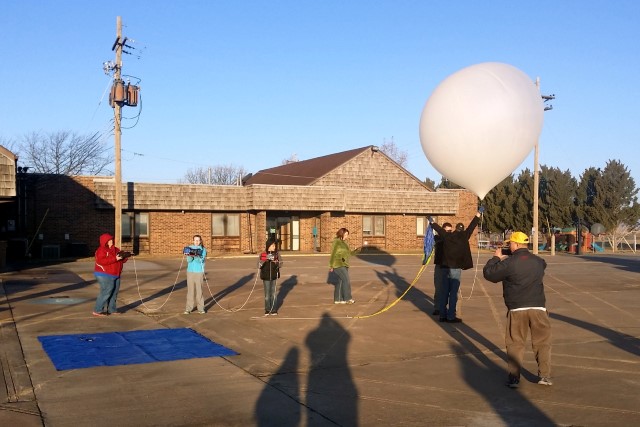 The balloon and payloads are moved in to position for launch.
Flight and Recovery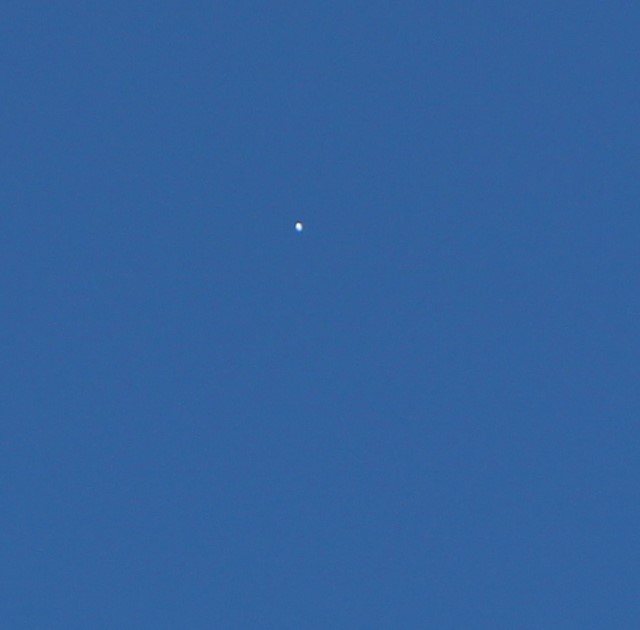 The balloon was clearly visible to the naked eye. Several of us actually saw the balloon disappear as it burst.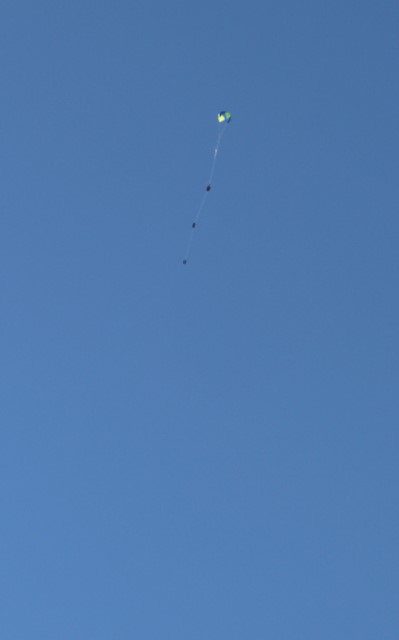 We were in a great position to watch the final descent.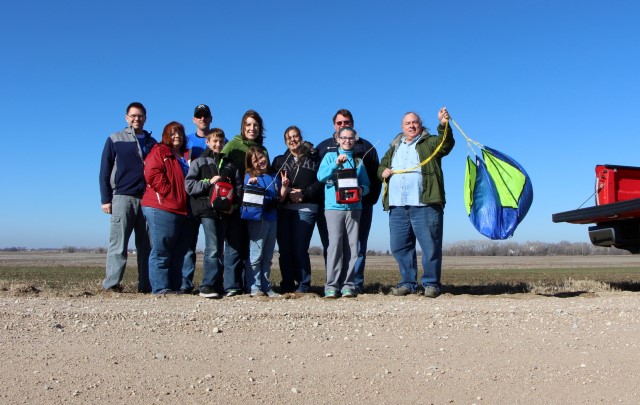 The recovery team!
More photos can be found in the Photo Gallery, Flight 2015a.