The third flight of the year will be a secondary payload to a WSU/Newton Middle School launch. The middle school class will be involved in the chase and recovery, and one of their objectives will be to plan out the flight path with the objective of being in position to see the flight string land.
Table of Contents
Flight Parameters
Launch Date/Time

Monday May 13th at 11:30am (16:30Z).

Alternative Date
n/a
Launch Site
Chisholm Middle School in Newton, KS (38.04N, -97.33W)

Capsule 1 (Track)


144.39MHz

Tracker: ptFlex with DRA818V 700mW transmitter signing W0ZC-11.

Sensor: Spectroscopy sensors AS7265x.

Beaconing: Time-based delay

15 second delays below 7,000m
45 second delays above 25,000m
Path is disabled above 2,000m MSL.

Camera: Dash-cam looking horizontal. Canon A570IS camera running CHDK and dash-cam camera pointed up.

0.90kg

Capsule 2 (Track)

(WARC-Club Designed)

144.39MHz

Tracker: ArduinoTrack with RadioMetrix 300mW transmitter signing W0SOE-11.

Beaconing: Altitude-based delay

30 second delays below 5,000m
45 second delays above 25,000m
Otherwise 60 second delays.
Path is disabled above 1,457m MSL.

Repeater: Raspberry Pi Fusion repeater 445.400-.
(Note the unusual offset frequency - Preprogram your Fusion radios for 440.400Tx/445.400Rx)

Capsule 3 (Track)

(WSU-Student Designed)

144.39MHz

Tracker: Habduino, built by Dillon from Wichita State University. The transmitter is signing KE0TGR-11.

Beaconing: Time-based delay

40 seconds during entire flight

Capsule 4

Experimental payload from Chisholm Middle School.

Recovery / Misc

Parachute and misc rigging.
Total Flight Weight
Total neck weight on the balloon.
4.19kg
Balloon / Gas

1200g Kaymont

Estimated Burst Altitude
28,445m MSL (93,320')
Estimated Ascent Rate
5.5 m/s (1080'/min)
Estimated Descent Rate
6.0 m/s (1200'/min)
Chase Frequencies
446.100MHz
NOTAM Filed
Flight Results
| | |
| --- | --- |
| Launch Date/Time | Monday May 13th at 12:04pm (17:04Z). |
| Launch Site | Chisholm Middle School in Newton, KS (38.04N, -97.33W) |
| Burst Altitude | 27,337m MSL (89,690') |
| Average Ascent Rate | 7.46m/s (1,468'/min) |
| Measured Descent Rate | 5.47m/s (1,076'/min) |
| Touchdown Site | 37.85N -96.885W |
| Touchdown Time | 1:37pm (18:37Z) |
| Recovery Time | 2:30pm (19:30Z) |
| Distance Traveled | 44.7km (27.7mi) |
| Total Flight Time | 1 hour 34 minutes |
| Downloads | Flight Path (KML), Analysis Spreadsheet, Winds Aloft Forecast, W0ZC-11 Log |
Photo Highlights
Tracking Predictions
13 May 2019
This morning's forecast calls for a distinct hook back to the northwest just before burst. This will in effect shorten the flight path, but it has the unwanted potential to draw us into El Dorado Lake.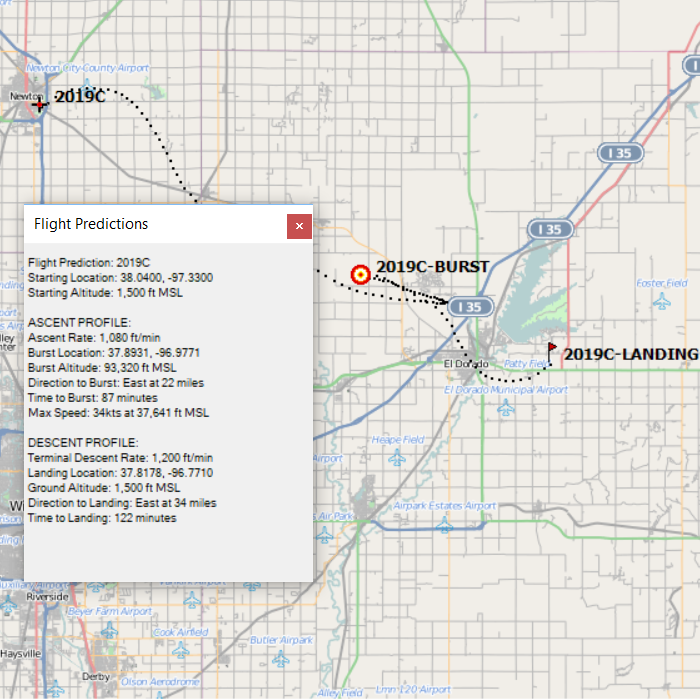 12 May 2019
The surface weather still looks very favorable. Newton is in a flood warning through Monday, so chase crews should be aware. As of this morning, I'm not seeing any warnings or alerts from the Kansas Department of Wildlife regarding the area around El Dorado Lake.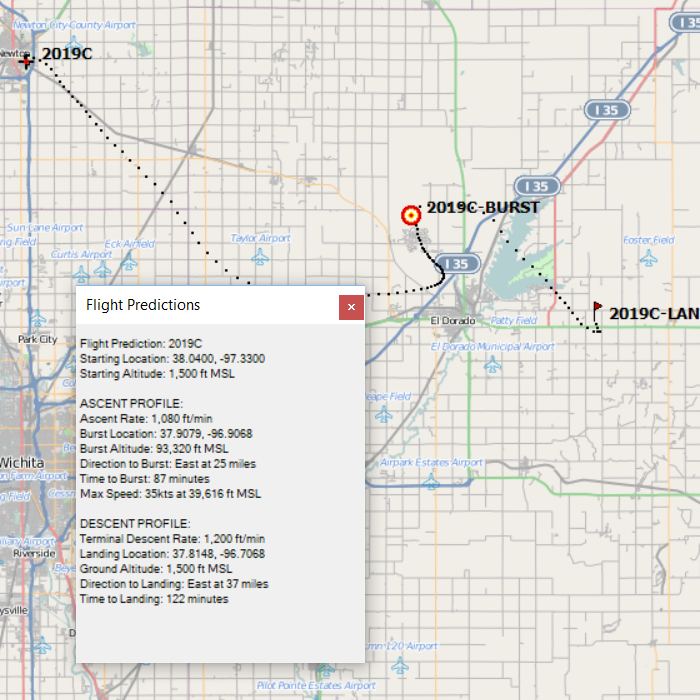 11 May 2019
A high pressure area will be pushing the clouds out of the midwest Sunday into Monday. Expect clear skies, and very calm surface winds. Biggest factor for recovery will be muddy roads and wet fields. Plan on brining rubber boots if you have them.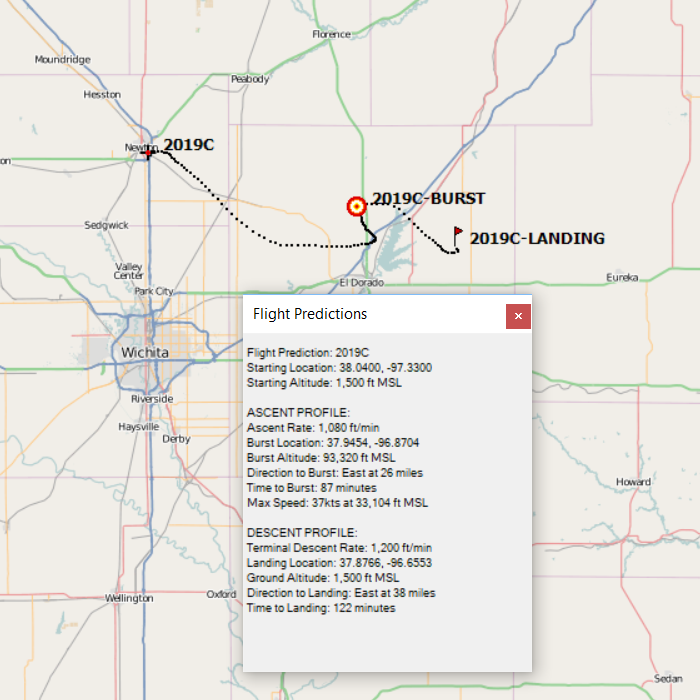 10 May 2019
Today's prediction extended out east significantly, but same general path.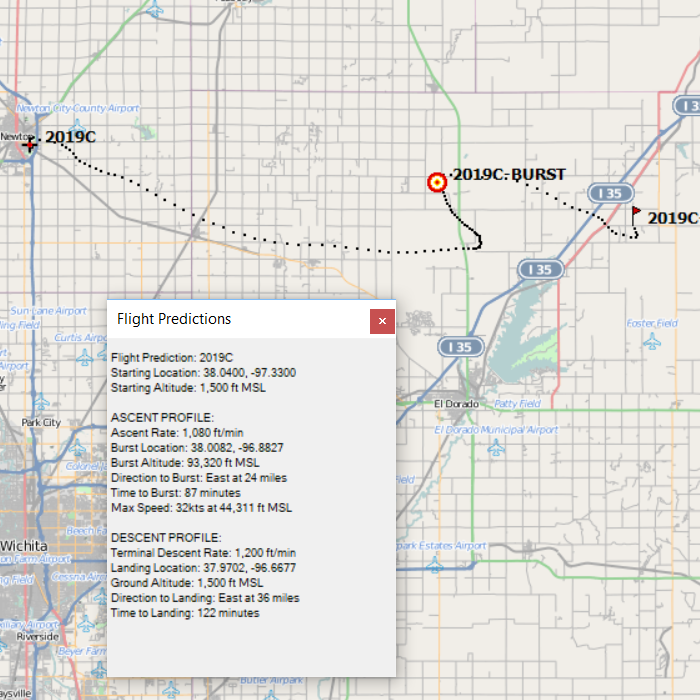 9 May 2019
Initial predictions are calling for a short chase, just east and south of the city of Newton. Surface weather is calling for comfortable temperatures and clear skies, which should make for plenty of opportunity for visual observations.