Flight number 40 will be launched from the Hutchinson Municipal Airport's open-house and fly-in. The event will be held on Saturday May 1, with the launch happening at 10:00am from the ramp near the airport tower.
The payload will include two cameras, two APRS trackers, and a LoRaWAN transceiver being developed by Travis Baker, W0ECO.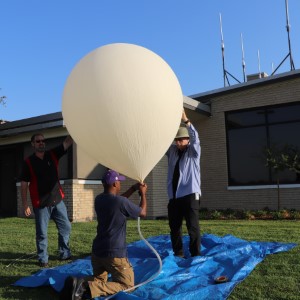 Flight Parameters
Launch Date/Time
Saturday May 1, 2021 at 12:00pm (17:00Z)
Alternative Date
n/a
Launch Site
Hutchinson Municipal Airport (38.07N, 97.87W)

Capsule 1

(Track)

Tracker: ArduinoTrack transmitter signing W0ZC-11

Sensors: n/a

Beaconing: Delay

Beacons every 25 seconds
Path is disabled above 2000m MSL.

Cameras:

0.23kg

Capsule 2

(Track)

Tracker: ptFlex transmitter signing W0ZC-12

DRA818V Module
500mW
144.39MHz

Sensors: n/a

Beaconing: Delay

Beacons every 55 seconds
Path is disabled above 2000m MSL.

Cameras: n/a

0.23kg

Capsule 3

(Track)

Tracker: LoRaWAN Tracker designed by Travis Baker, W0ECO

Beaconing:

Below 900m MSL: 20s beacon with a Spread Factor 10 (SF10BW125)
Above 900m MSL: 10s beacon with a Spread Factor 8 (SF8BW125)

Beacons will be relayed into APRS-IS as W0ECO-12

Backup Tracker: Backup tracking beacon transmitting CW on 433.94MHz. Includes piezo beeper for audio tracking.

Sensors: n/a

Beaconing: Continuous every 10 seconds.

Cameras:

0.32kg
Recovery / Misc
Parachute and misc rigging.
0.30kg
Flight Weight
Total neck weight on balloon.
1.08kg
Balloon / Gas

800g Kaymont with 6.09cu meters of Hydrogen.

Neck Lift: 5.4kg
Net Lift: 4.3kg

Estimated Burst Altitude
24,500m MSL (80,380')
Estimated Ascent Rate
7.7m/s (1,515'/min)
Estimated Descent Rate
6.6m/s (1,300'/min) velocity at touch-down.
Chase Frequencies
446.100MHz
NOTAM Filed
High Altitude Balloon from HUT VOR on radial 038, east-northeast bound reaching Flight Level 600 from May 1 at 1700Z to May 1 2000Z. (HUT04/028)
Flight Results
| | |
| --- | --- |
| Launch Date/Time | Saturday May 1, 2021 at 12:04pm (17:04Z) |
| Launch Site | Hutchinson Regional Aiport (38.068N, -97.866W) |
| Burst Altitude | 91,511ft |
| Average Ascent Rate | 1467ft/min |
| Measured Descent Rate | 1149ft/min |
| Touchdown Site | 38.33N, -97.485W |
| Touchdown Time | 1:45pm (1845Z) |
| Recovery Time | |
| Distance Traveled | 44km |
| Total Flight Time | 1 hour 40 mintues |
| Downloads | |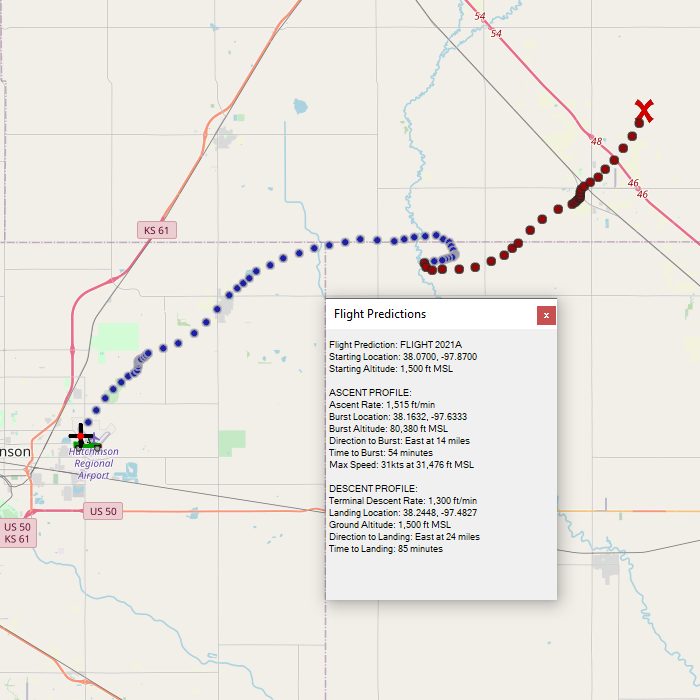 April 29, 2021
The landing predictions have stabilized east-northeast of Hutchinson, around 30 miles. Today's prediction puts it almost half way between Newton and McPherson.
Surface weather looks nice for Saturday. Morning winds will be light, increasing to moderate in the afternoon. Hopefully we'll get the balloon into the air before the winds pick up, but given the postive lift that we'll have, a high-wind launch won't be difficult.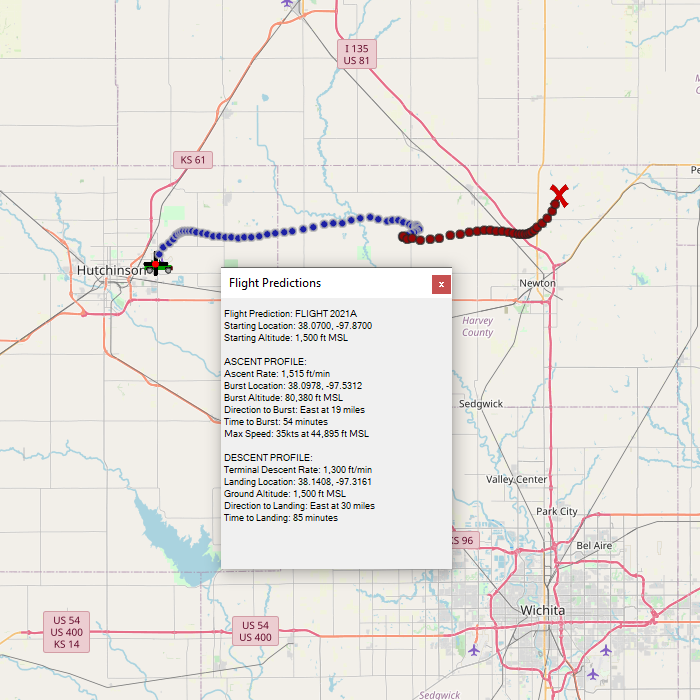 April 28, 2021
Predicted landing is 5 miles north of Newton, 5 miles east of Hesston.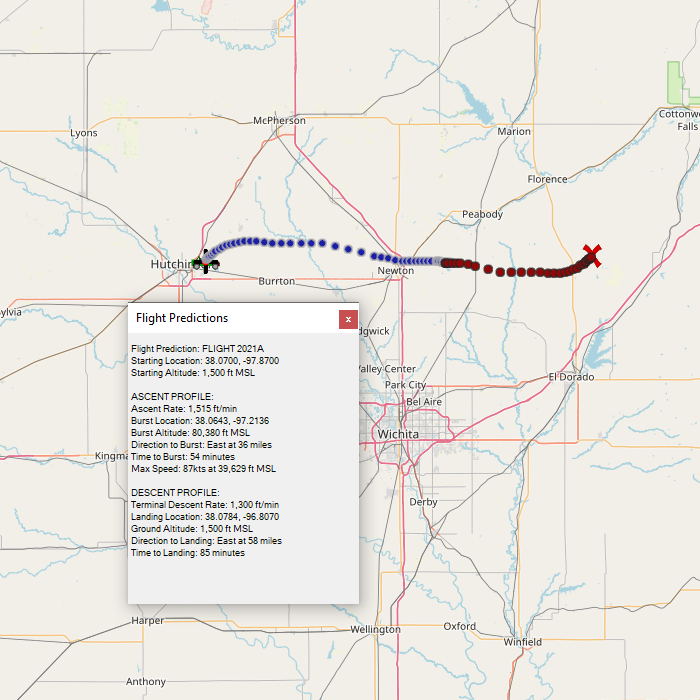 April 27, 2021
We're back to heading due east out of Hutchinson.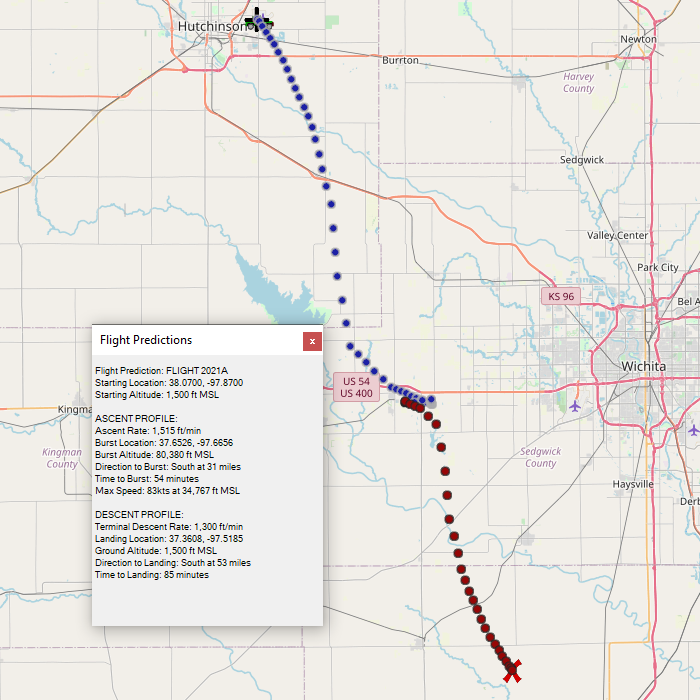 April 26, 2021
Today's predictions are based on a flight reconfiguration that minimizes weight and burst altitude, in favor of a shorter flight. We are also moving the launch time back to 12:00pm noon instead of the earlier morning in order to avoid some scheduling conflicts with the greater airport fly-in. Tracking equipment remains unchanged.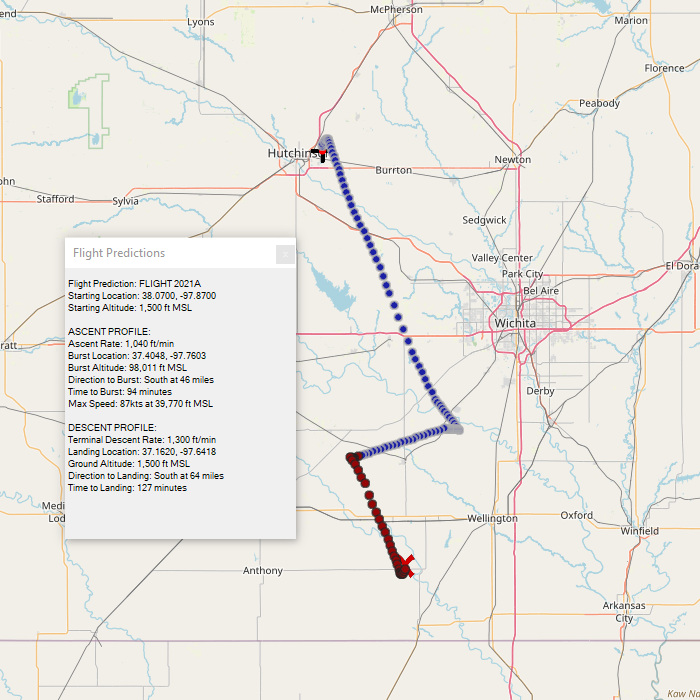 April 24, 2021
We're almost back to where we started for our flight track. We'll continue to monitor the situation throughout this week.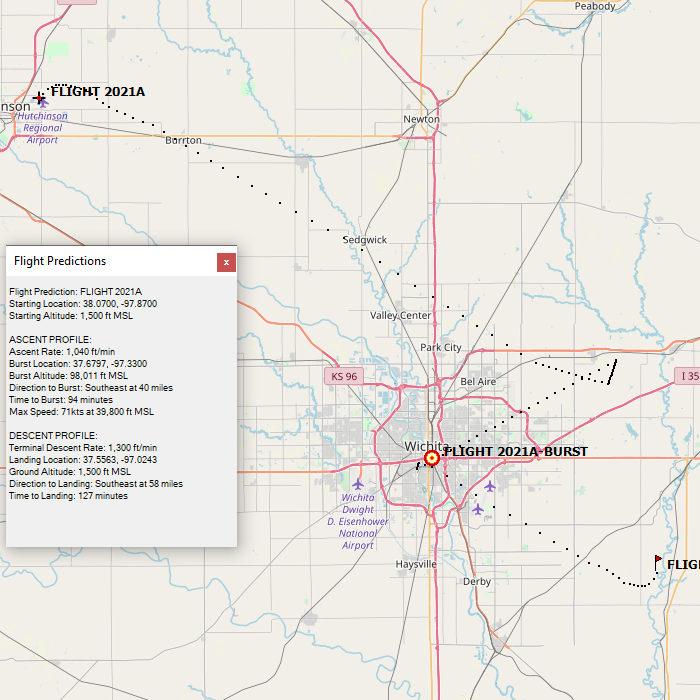 April 23, 2021
Flight predictions have shifted back down to the southeast. We are now close enough that the winds forecasts have switched to the high-resolution data and we should expect for less variations going forward.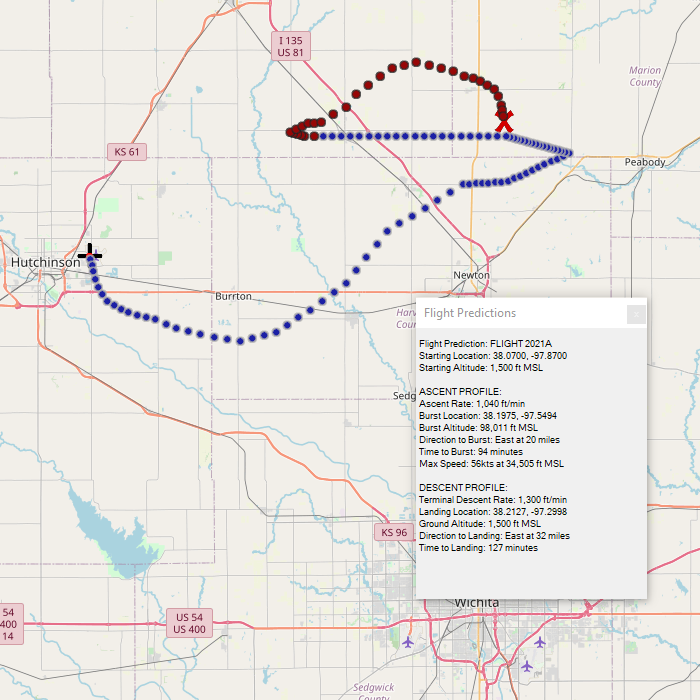 April 20, 2021
Still staying north of Newton.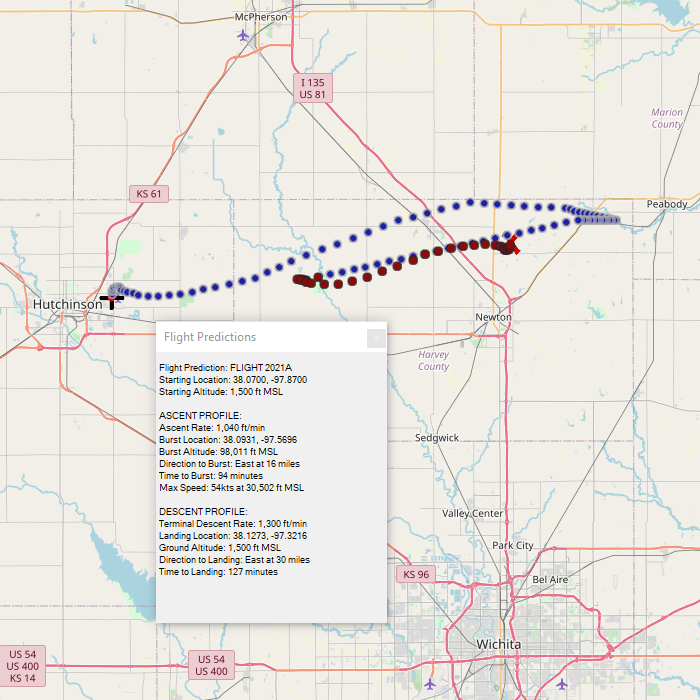 April 19, 2021
Today's predictions have shifted drastically back to the north. The predicted landing spot today is just north of Newton, KS.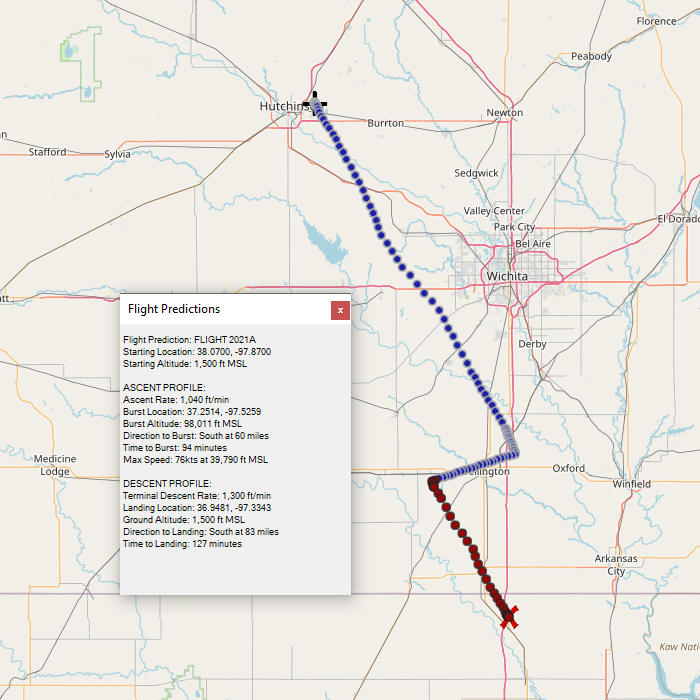 April 18, 2021
Predictions have shifted south along the Kansas-Oklahoma border. Maximum winds have picked up to 76 knots which is a major factor in the changes.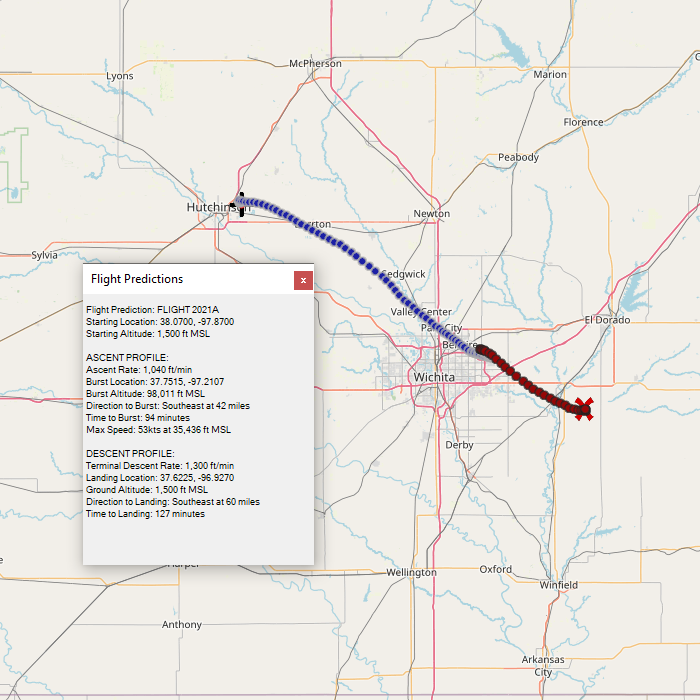 April 16, 2021
The initial prediction shows a flight heading southeast from the Hutchinson airport and landing south of El Dorado. The maximum wind speed encoutered is forecast at 53kts.