Another quick flight to prepare for a classroom of 6th grade spectators.
Flight Parameters
Launch Date/Time
Saturday, 16 March, 2002 at 1:00pm
Alternative Date
N/a
Launch Site
East fairgrounds parking lot near Fairgrounds Pool (38º 04.6'N, 97º 54.9'W) in Hutchinson, KS
Primary Transmitter / Antenna
VX-1R HT running APRS on 144.39MHz / Vertically polarized dipole
Backup Transmitter / Antenna
PC Electronics 1.5W ATV Transmitter on 434.00MHz / Turnstile circularly polarized antenna hanging from bottom of capsule
Backup Transmitter / Antenna
Keyed oscillator on 147.55MHz (no modulation) / Horizontally polarized dipole
Balloon / Gas
Kaymont 1200gram / 240 cu feet of Helium
Estimated Burst Altitude
90,000' MSL
Estimated Ascent Rate
1300' per minute
Estimated Descent Rate
Approx. 1400' per minute at touchdown
Capsule(s) weight
5lb 11oz (2577g) including parachute, rigging, batteries, etc...
Chase Frequencies
147.12+, 146.82-, 146.52MHz, 7.2535MHz
Flight Results
After some minor set backs the weekend before, Project: Traveler 2002a sucessfully flew 118 miles northeast of Hutchinson, landing about a mile north-west of Keene, KS or six miles west-southwest of Topeka, KS. The flight included a Canon Elph LT APS camera, 1.5 watt ATV transmitter, and a new flight controller with all new firmware. All systems performed flawlessly except for the APS camera (see below).
Flight Statistics
Launch Date/Time
Saturday, 16 March, 2002 at 12:47pm
Launch Site
East fairgrounds parking lot near Fairgrounds Pool (38º 04.6'N, 97º 54.9'W) in Hutchinson, KS
Burst Altitude
98,600' MSL
Average Ascent Rate
1236ft/min (6.28m/s)
Measured Descent Rate
Unknown (at touchdown)
Touchdown Site
1 mile north-northwest of Keene, KS (38º 58.302'N, 96º 03.008'W)
Recovery Time
Saturday, 16 March, 2002 at 3:45pm
Distance Traveled
118 miles as the crow flies
Total Flight Time
1 hour 52 minutes
Downloads
Lat/Lon File, Flight Analysis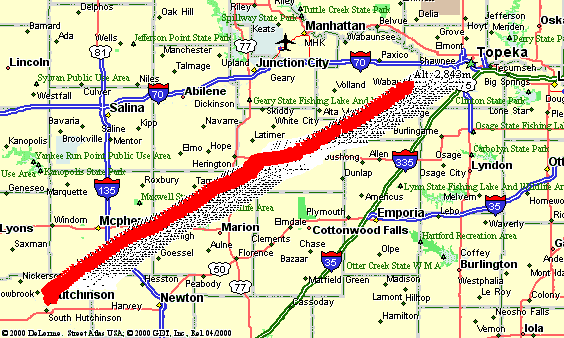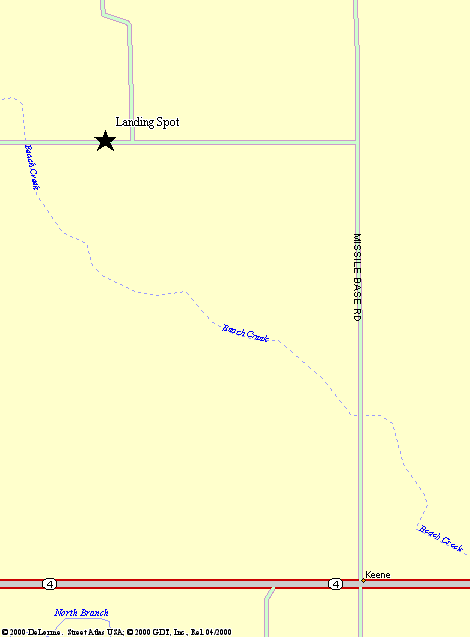 Lessons Learned
We still had one tracking station that failed during the chase. It appears that it was due to a bad audio plug.
The ATV was good within about 20 miles at faily low altitudes. Unfortunatly the chase teams weren't able to keep up with balloon and we were unable to view video on the descent.
Braided nylon rope was used for the load line to try to reduce spinning. The spinning wasn't helped by the braids, but the rope appeared to be in much better condition (not all frayed).
The APS camera exposed almost all frames of film while still sitting on the ground. We still aren't sure why this happened, but will be looking into it. The rest of the controller's firmware seemed to work flawlessly.
The APRS controller was set to transmit a $GPGGA (altitude) string every 30 seconds and a full set of data ($GPGGA, $GPRMC, and telemetry) every minute. This configuration made a great improvement in the number of position/altitude reports that were actually heard.
The 50lb test 'weak link' was broken upon retrieving the capsule. The chase teams were tired by the time we got retrieved the site and consequently it didn't dawn on us that we were missing the rest of the lines until we were 10 miles down the road (and too tired to turn back). At this point, our best guess is that the balloon remains got hung up in some power lines almost directly above the landing site and pulled loose from the capsule. We will try to get ahold of someone in the area to investigate this further.
A 1:00pm launch is getting pretty late in the day especially when you have to work all morning. It was sufficient as a backup date, but I don't recommend it.