The mission objectives for this flight are to get the Canon Elph APS camera to function normally and to foster inter-club communication and participation.
The Canon appeared to be functioning half-way normal during the 2002c launch, however the pictures were blurry. After some study of the manual, it was discovered that a light sensor exists near the view finder that determines the shutter speed of the camera. On the 2002c flight, the sensor was covered and the camera therefore believed that it was dark outside and produced an extended exposure. The camera on the 2002d flight will be fully exposed to light via a plexi-glass shield.
Don Pfister has invited the Project: Traveler group to do a joint launch with his group (HABITAT) during the Herington Airport Open House. As it turns out, Herington is pretty close to being a half-way point which works well for both parties. A group of enthusiasts from the Wichita area will also be attending (though not flying).
Flight Parameters
Launch Date/Time
Saturday, 7 September, 2002 at 10:00am
Alternative Date
None
Launch Site
Herington Airport (38º 41.861'N, 96º 48.599'W) east of Herington, KS
Primary Transmitter / Antenna
VX-1R HT running APRS on 144.39MHz / Vertically polarized dipole
Backup Transmitter / Antenna
Keyed oscillator on 147.455MHz (no modulation) / Horizontally polarized dipole
Balloon / Gas
Kaymont 600gram / 130 cu feet of Helium
Estimated Burst Altitude
72,000' MSL
Estimated Ascent Rate
1320' per minute
Estimated Descent Rate
Approx. 1000' per minute at touchdown
Capsule(s) weight
2lb 2oz (962g) including parachute, rigging, batteries, etc...
Chase Frequencies
146.52MHz, 7.2535MHz
Flight Results
This flight with Don, KA0JLF, from HABITAT may have been Traveler's best flight yet - everything seemed to have worked perfectly!
Flight Statistics
Launch Date/Time
Saturday, 7 September, 2002 at 10:53am
Launch Site
Herington Airport (38º 41.83'N, 96º 48.66'W) near Herington, KS
Burst Altitude
76,322ft (23,263m) MSL
Average Ascent Rate
1108ft/min (5.63m/s)
Measured Descent Rate
Approx. 1279ft/min (6.5m/s) at touchdown
Touchdown Site
6 miles southwest of Herington, KS (38º 36.7954'N, 97º 01.8939'W)
Touchdown Time
Saturday, 7 September, 2002 at 12:36pm
Recovery Time
Saturday 7 September, 2002 at 12:54pm
Distance Traveled
12 miles as the crow flies
Total Flight Time
1 hours 43 minutes
Downloads
Lat/Lon File, Log File, Flight Analysis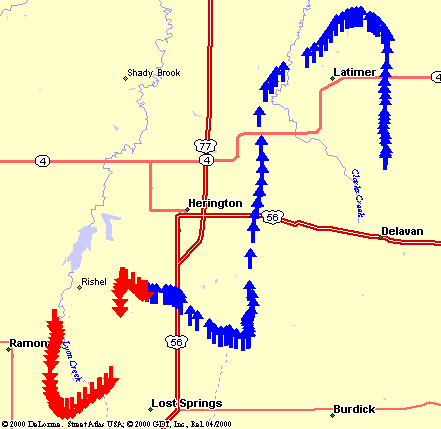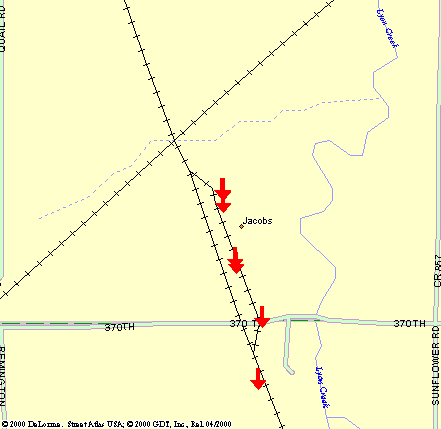 Lessons Learned
The APS camera finally operated correctly! Jon and I made a few additional modifications for this flight that seemed to have helped greatly. First off, after last flight's blurry pictures, we mounted the camera directly to a Plexi-glas plate, in full view of the ground (all sensors were fully exposed). Secondly, in a last-minute rush, we replaced the 2N3904 transistor switch with a general purpose opto-isolator which is mounted on the camera itself. 1uF Tantilum filter capacitors were placed across both ends of the cable connecting the opto-isolator to the controller board. Finally, we replaced the connecting cord with a single solid-strand pair of wires from a piece of CAT-5 computer data cable. For extra good measure, we tightened up the twist in the pair to help reduce EMI. These steps seem to have alliviated all problems that we have been having with the APS camera.
There really isn't any need to print the APS prints in panoramic format. As is common with cheaper cameras, the edges of the prints are darker than in the middle. This is just a result of relatively cheap, light optics. In the future, I think we would be better off just having the standard 4x7 prints made - we can always have reprints made in panoramic format if we so desire.
Many of the photos are very good, but some of them would have been better by using a faster film. Currently we're setup to use 40 exposures of APS film, but that's difficult to purchase around here without buying a three-pack consisting of two 28 exposure rolls, and one 40 exposure roll. In the past, 200 speed films is often the only available speed. So, in the future, I recommend we reduce the number of photos to 28 and begin purchasing 400 or 800 speed. This will reduce developing costs as well as reducing the wasted extra rolls. (We've actually been using the 28 exposure rolls to test with, but the demand for test rolls will be decreasing).
We flew a 1300mAH Nickel Metal Hydride battery pack for the first time, which worked fine. Having only 1300mAH, we didn't have as much battery life as we're used to, but should be fine especially for flights that are expected to remain in a close proximity. One of these days I will replace the cells with a higher-capacity 1500mAH cell.
The 50lb-test Kevlar SpiderLine 'weak link' finally held once again. In fact, it was the same piece that flew last time after Jon took the time to put a real knot in it without use of epoxy. We'll continue to fly doubles for a while until we're comfortable with it.