This should be an exciting flight with several new pieces of equipment going up. The backup transmitter has been totally redesigned to include modulated CW (Morse Code tones over FM) tones powered at 200mW. This will make tracking by RDF (Radio Direction Finding) very practical and fun.
Also on board is a remotely-controlled cutdown device. This is a brand new design which should cut the balloon away from the capsule/parachute at 80,000 feet. If this design is effective, it will enable us to do a larger balloon on a high-altitude attempt later this year.
Flight Parameters
Launch Date/Time
Saturday, 15 March 2003 at 8:00am
Alternative Date
Sunday, 16 March 2003 at 8:00am?
Launch Site
East fairgrounds parking lot near Fairgrounds Pool (38º 04.6'N, 97º 54.9'W) in Hutchinson, KS
Primary Transmitter / Antenna
VX-1R HT running APRS on 144.34MHz / Vertically polarized dipole
Backup Transmitter / Antenna
PC Electronics 1.5W ATV Transmitter on 434.00MHz / Horizontally polarized Little Wheel antenna. The transmitter is keyed on for about 7 minutes, and then off for about 3.
Backup Transmitter / Antenna
Modulated CW transmitter at 200mW on 146.55MHz / Horizontally polarized dipole
Balloon / Gas
Kaysam 1200gram / 240 cu feet of Helium
Estimated Burst Altitude
80,000' MSL (low altitude due to cutdown device) - 94,000' MSL in case of cutdown failure.
Estimated Ascent Rate
1050' per minute
Estimated Descent Rate
Approx. 950' per minute at touchdown
Capsule(s) weight
6lb 6oz (2876g) including parachute, rigging, batteries, etc...
Chase Frequencies
146.52MHz, 7.2535MHz
Cameras/Films
Live ATV footage on 434MHz (cable channel 59 if you're hooked to an antenna)
Canon Elph LT APS camera with 25 exposures of ISO800 speed film.
Balloon Finder Telemetry Mode
PT Mode 2
Flight Results
We lost APRS data at about 45,000 feet, but were able to recover in good time thanks to the GPS data overlayed on the ATV screen.
Flight Statistics
Launch Date/Time
Saturday, 15 March, 2003 at 8:16am
Launch Site
East fairgrounds parking lot near Fairgrounds Pool (38º 04.6'N, 97º 54.9'W) in Hutchinson, KS
Burst Altitude
About 92,850ft (92,827m) MSL
Average Ascent Rate
1063ft/min (5.41m/s)
Measured Descent Rate
Unavailable
Touchdown Site
10 miles northeast of McPherson, KS (38º 29.535'N, 97º 33.987'W)
Touchdown Time
Saturday, 15 March, 2003 at 10:15am
Recovery Time
Saturday 15 March, 2003 at 10:50am
Distance Traveled
44 miles as the crow flies
Total Flight Time
1 hours 59 minutes
Downloads
Lat/Lon File, Log File, Flight Analysis, Burst Graph (based on recorded ATV data)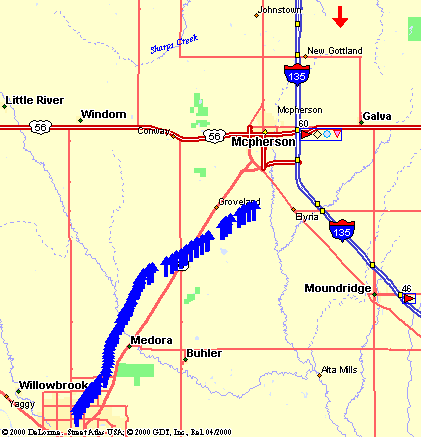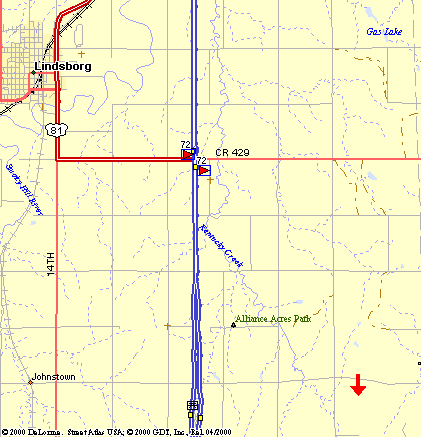 Lessons Learned
It appears that a bad Lithium battery was the cause of the cutdown failing to actuate. I dissected the Photo Lithium and took some pictures in the process.
We lost the APRS controller about 40 minutes into the flight. It appears to have been caused by a cold solder joint on the motherboard. It started working again once it was on the ground. Thankfully, we also had ATV on board with a GPS overlay so we could track the flight progress.
The cutdown device failed to actuate. It is still unclear why this failed.
The flight predictions that were built into Balloon Finder made the recovery much easier by having a good idea of where to start the RF-tracking search once it was on the ground.
The APS camera experienced a lot of sun glare as the capsule spun. For horizon picutures, we should incorporate a hood around the camera port.