With the ever-increasing price of Helium, we have decided to pursue Hyrdogen as a lifting alternative. Because of the added complexities of dealing with the new gas, new fittings, etc, I am moving the launch outside of Hutchinson airport's Class-D airspace.
In addition to the new gas, Danny has constructed a new dual-camera payload for both a side and downward facing camera. The two controllers will fly in separate containers above the camera platform.
A few changes have been made to the ArduinoTrack flight computer, which seem to be resulting in increased reception rates.
Several major issues have been fixed in the Balloon Finder tracking software also.
Flight Parameters
Launch Date/Time
Monday, 30 May 2011 at 7:30am
Alternative Date
n/a
Launch Site
Rice Park (38.074654, -97.955453)
Primary Transmitter / Antenna
ArduinoTrack controller with Radio Shack HT into a vertically polarized dipole antenna. Signing W0ZC-11.
Backup Transmitter / Antenna
Custom PT controller with VX-1R into vertically polarized dipole. Signing AJ0NR-11.
Balloon / Gas
Kaymont 600gram / 170 cu feet of Hyrdogen / 10lbs lift.
Estimated Burst Altitude
80,000' MSL
Estimated Ascent Rate
1200' per minute
Estimated Descent Rate
Approx. 1300' per minute at touchdown
Capsule(s) weight
Total Flight Weight 5lbs 1oz
Chase Frequencies
446.000
Balloon Finder Telemetry Mode
PT Mode 2
Predictions
Sunday Evening, May 29th - NE track, landing 8 miles E-SE of Salina. Rerunning this with a 1200Z sounding, put us even farther SE, so the earlier the better.
Saturday Evening, May 28th - NE track, landing 14 miles E-SE of Salina. I've adjusted the flight to assume 80k' burst altitude, and 1200fpm ascent to assist in the high-wind launch, as well as to stay south of I-70.
Saturday Morning, May 28th - NE track, landing 8 miles E of Abilene. I also re-ran the prediction at a 1200fpm ascent rate, and it had the expected result of bringing the landing site further in, away from I-70.
Friday, May 27th - NE track, landing a few miles SE of Abilene. Surface winds are looking to be the biggest issue Monday.
Thursday, May 26th - N-NE track, landing a few miles north of Abilene. On this present track, we would probably under-inflate to extend out flight out beyond I-70 farther.
Flight Results
Launch Date/Time
Monday, 30 May 2011 at 7:45am
Launch Site
Crossroads Christian Church (38.1015, -97.939666)
Burst Altitude
84,102' MSL
Average Rate of Ascent
1295 fpm
Terminal Descent Rate
2875 fpm
Touchdown Site
4 miles south of Salina (38.73883, -97.607833)
Touchdown Date/Time
Monday, 30 May 2011 at 9:26am
Recovery Date/Time
Monday, 30 May 2011 at 9:36am
Distance Traveled
48 miles as the crow flies.
Total Flight Time
1 hour 41 minutes
Downloads
W0ZC Logs, KML Mapping File, Launch/Recovery Photos, Aerial Photos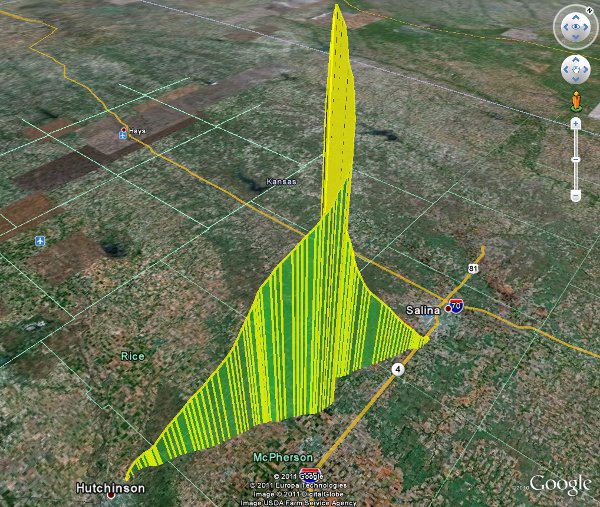 Summary
The weather reports were reporting roughly 22mph sustained, 28mph wind gusts at the time of launch. We packed and prepped all of the payloads first thing, and then filled the balloon with Hydrogen. We over-inflated (intentionally) to provide the maximum amount of lift to clear some obsticles in the high winds. With almost an entire tank of H2 in the 600g balloon, we had 15 pounds of positive lift (+10 pounds net lift).
The balloon took off like a rocket, easily clearning any and all objects in the area. We did not even attempt to use lanyards of any sort - they would have been ripped to shreds.
During the chase, we found a couple more glitches in Balloon Finder, mostly related to Windows 7 compatibility fixes. These caused our real-time predictions to not run, but otherwise, the chase teams continued as usual. That bug has already been found and squashed.