I'm scheming a little bit of an unorthodox flight for 2014b for a couple of reasons. First, I have a spare bottle of H2 from the GPSL that's costing $15/month to have laying around, so I need to get it used, but the reality is that everyone is busy during the summers. So, my plan is to launch the balloon up-wind, and fly it back towards Hutch in the evening hours. The balloon will be launched sometime near sunset (although I haven't completely decided when exactly), with the understanding that we would likely not recover until sun-up on Saturday morning.
| | | |
| --- | --- | --- |
| Launch Date/Time | Friday July 11th, 2014 at ~8:05pm (01:05UTC on Saturday, July 12th) | |
| Alternative Date | n/a | |
| Launch Site | Hutchinson (38.3N, 97.6W) which is private property. | |
| Capsule 1 (Track) | ArduinoTrack with Radio Shack HTX-200 HT with vertically polarized dipole. Canon A570IS camera running CHDK. GoPro Hero pointed vertically. W0ZC-11. | 1.17kg |
| Capsule 2 (Track) | ArduinoTrack with RadioMetrix 300mW transmitter and Telit JN3 GPS. W0ZC-12 Sparkfun 434MHZ transmitter module, transmitting AM modulated RF on 433.895 +/- 10khz. Beacons the W0ZC callsign every 5 seconds. | 0.62kg |
| Recovery / Misc | Rocketman Parachute (.20kg) and misc rigging (.15kg). | 0.35kg |
| Total Flight Weight | Total neck weight on the balloon. | 2.14kg |
| Balloon / Gas | 1200g Kaymont with 5.1cu meters (180cu ft)Hydrogen. 2.2m diameter. Net lift (4kg) | |
| Estimated Burst Altitude | 30,266 MSL (99,300') | |
| Estimated Ascent Rate | 5.5 m/sec (1080'/min) | |
| Estimated Descent Rate | 425 m/min (1400'/min) | |
| Chase Frequencies | 446.000MHz | |
July 10
Track forecast continues to shift further north, but not significantly. The surface weather forecasts are still showing minimal chance of rain so at this point, everything is a go.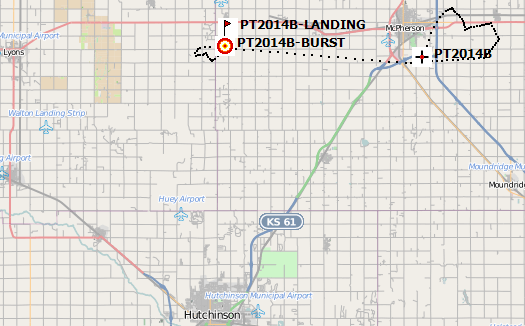 July 9
Still holding with the same track. The rain forecast has increase to a 10% chance Friday and Saturday. Unless it would shoot up quite a bit more, we will still plan on flying under a slight chance of rain. The GoPro will be protected, and I'm not too concerned about the controller boards inside of the capsules.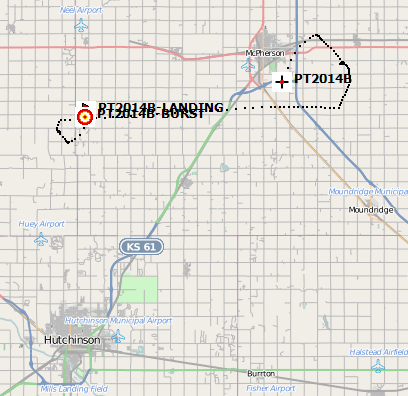 July 8
Same general track with a landing north of Hutch. Still a 0% chance of rain overnight with lows in the low 70's.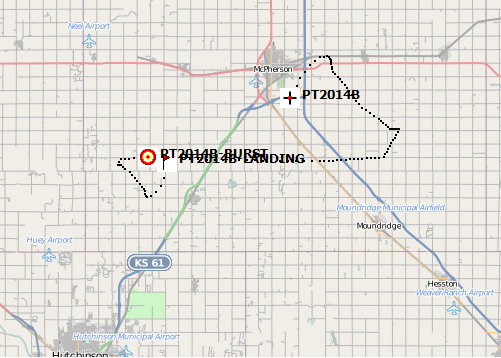 July 7
Initial flight predictions look good for a flight out of McPherson, KS to land within about 10 miles north of Hutchinson. Weather forecasts are calling for light-moderate surface winds, and 0% chance of rain overnight.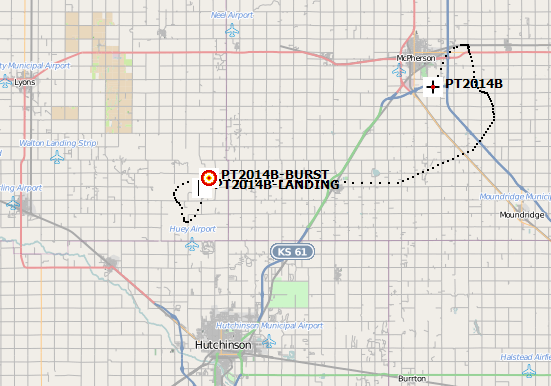 | | |
| --- | --- |
| Launch Date/Time | Friday July 11th, 2014 at 8:11pm (01:11UTC on Saturday, July 12th) |
| Launch Site | South edge of McPherson, KS. (38.3468, -97.6462) |
| Burst Altitude | 32596m MSL (106,944') |
| Average Ascent Rate | |
| Measured Descent Rate | |
| Touchdown Site | 38.3678, -98.0260 |
| Touchdown Time | Friday July 11th, 2014 at 10:39pm (03:39UTC on Saturday, July 12th) |
| Recovery Time | Saturday July 12, 2014 at 8:42pm (01:42UTC) |
| Distance Traveled | 33km (20.5mi) as the crow flies. |
| Total Flight Time | 2 hours, 28 minutes |
| Downloads | |
This was our first shot at a night flight and overall we had wonderful weather. The winds were fairly calm in the evening, and the sky was almost completely clear.
The objective was to launch the balloon into the evening sky to capture the sunset, including the terminator line crossing the earth. We get get some good shots of the sunset, however the terminator line was never very clear from the photographs. We had hoped to time the ascent to have the balloon experience its own sunset (about 30 minutes after ground-level sunset), but that didn't work out quite right. We were a few minutes late in getting airborne, and our ascent rate was a little on the low side. Sunset to the balloon occured about 9:15pm, when we were still around 20,000m MSL.
Being a typical summer flight, the track was very short (33km) and so we wound up waiting at the home owner of the launch site and watch the balloon on a big-screen TV hooked to the laptop. That turned out to be a great opportunity to socialize with the group, and show off the Balloon Finder software to a few people who had never chased in my vehicle before.
The flight was recovered in good time, however, we experienced multiple problems on this flight.
The ArduinoTrack controller has a bug in the Altitude-based reporting, where transmissions in the mid-range were not delaying correctly, thereby sending position reports every ~4 seconds. That was rather frustrating, but I will say that it did not have a major impact on battery life and it was nice to have such a steady stream of information pouring in.
The Telit JN3 GPS module which was used on W0ZC-12 is supposed to have been good above the 60k' limitations, but something happened to the data at 24,014m/78786' MSL and that transmitter began sending out GPS coordiantes of 0N, 0W, 0MSL, with an occasional timestamp sprinkled in there, so I'm guessing that one of either the GGA or RMA strings had a valid time, but neither had valid data. Valid data resumed on the descent - 59,074' was the first valid packet captured on the way down.
Waiting at the lauch site for the balloon to travel overhead was fun, but we found ourselves perfectly positioned under the null of the vertical antennas again and near burst, we were decoding very few packets. Fortunately we had Internet access and switch over to tracking on the http://aprs.fi website.
The GoPro Hero 3 camera stopped recording video right at the 1 hour mark again for the second time in a row. The batteries were well charged when it was recovered, so there must be some sort of shutdown option in the firmware.
The temperature read out is not handling negative numbers correctly.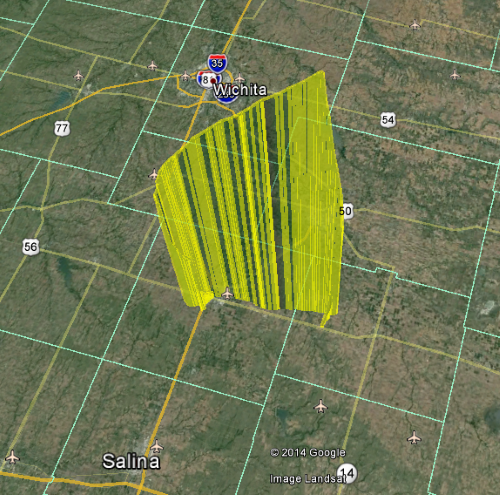 Launched out of McPherson, the balloon traveled west towards Little River.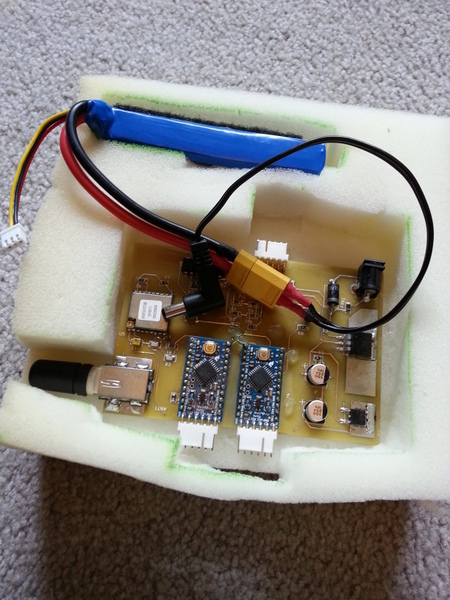 ArduinoTrack for capsule 1. The GPS engine is an Inventek module with a Sarantel helix antenna.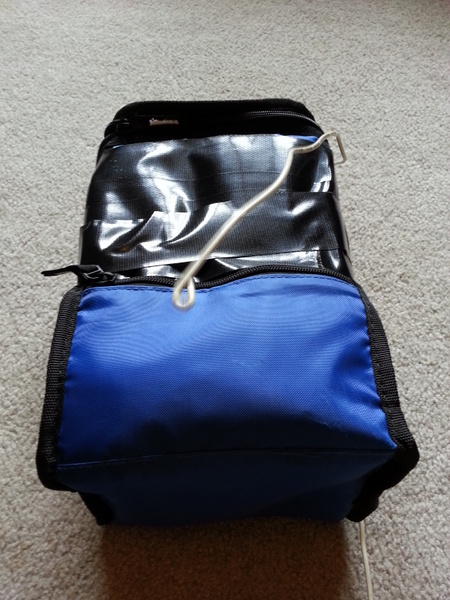 Capsule 2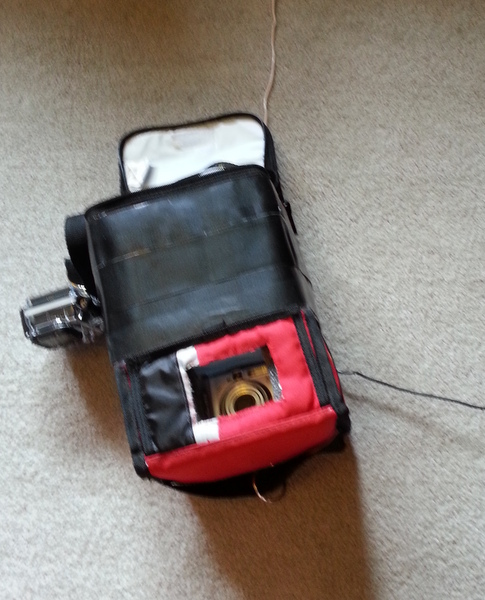 Capsule 1 has the GoPro and a Canon Powershot A570IS.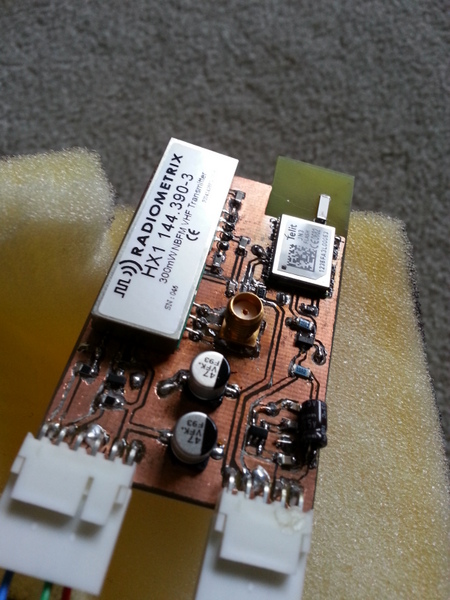 Capsule 2 has a Radiometrix transmitter module on 144.39MHz, with the Telit JN3 GPS module and a chip antenna.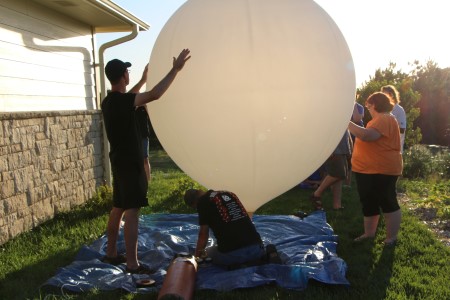 Filling on a beautiful summer evening.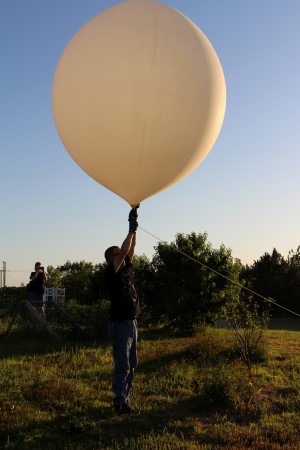 The winds were nearly calm by the time we released.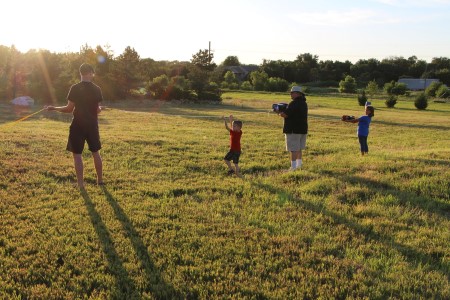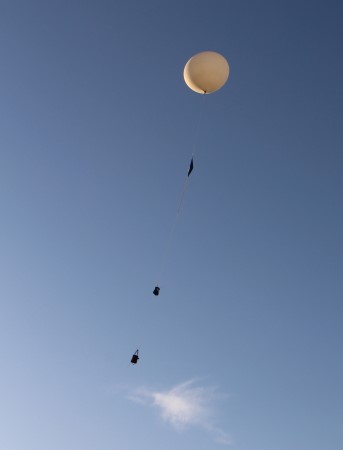 Airborne - T-minus 45 minutes to sunset.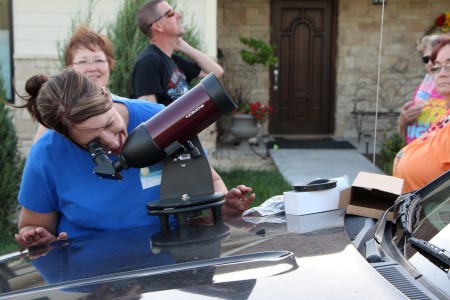 Clear skies and a short chase enabled us to enjoy the visual aspects of the chase. I brought out a tabletop telescope and we watched the balloon until after sunset. The packages and the load lines could be clearly seen through the telescope until it disappeared around 60k'.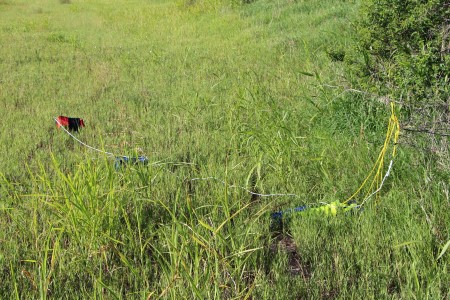 We recovered the payload by 8:42am the next morning. Normally Kansas has roads on a 1 mile grid. The landing site was 1/2 mile in from either side (east to west), and for some reason, there was no east-west road going through this section of land. If there had been, we could have driven to within a few feet of the payload. Jon and Zack hiked in about .3 miles through a wheat field to recover.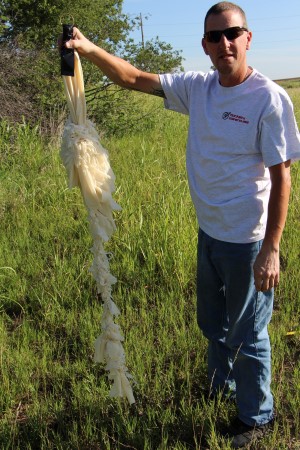 The payloads drug back most of the latex this time. It completely fouled the load line connecting the parachute to the balloon, but it didn't seem to get wrapped in the chute itself.
More photos can be found in the Photo Gallery, Flight 2014b.