Project: Traveler has been invited in to a local elementary school during the spring of 2015 to do a launch.
UPDATE: The balloon was recovered this morning near Groveland, KS. The first photos can be found below under Photo Highlights!!!
The payload will consist of 2-3 APRS trackers, along with numerous cameras. I will be trying to acquire a second A570IS camera since those are the most reliable units that we've found to-date. Also new for this flight will be a set of 3D printed avionics frames to hold all of the controllers, transmitters, and batteries rigid. The ultimate goal of this is to increase the reliability of the electronic packages.
Launch Date/Time
Wednesday, April 15th at 8:30am (13:30Z)
Alternative Date
Wednesday, April 29th at 8:30am (13:30Z)
Launch Site
Morgan Elementary School in Hutchinson (38.0848N, -97.9345W)

Capsule 1 (Track)


144.39MHz

ArduinoTrack with Radio Shack HTX-200 HT with vertically polarized dipole. Canon A570IS camera running CHDK. GoPro Hero pointed vertically. W0ZC-11.
1.14kg

Capsule 2 (Track)


144.34MHz

ArduinoTrack with Radio Shack HTX-200 HT transmitter and Telit SL869v2 GPS, signing W0ZC-12.

Beaconing is simple time delay:
20 second delays through entire flight.
Path is disabled above 2,000m MSL.

Sparkfun 434MHZ transmitter module, transmitting AM modulated RF on 433.895 +/- 10khz. The 434MHz beacon sends the W0ZC callsign every 5 seconds.
Canon A2300 camera running CHDK script.

0.86kg

Capsule 3 (Track)

144.39MHz

ArduinoTrack (Combined) with RadioMetrix 300mW transmitter and Telit SL869v2 GPS, signin W0ZC-13.

Beaconing is altitude-based:
<5,000m MSL: 30 second beacons
5,000m-25,000m: 60 secon beacons
>25,000m: 40 second beacons
Path is disabled above 2,000m MSL.

A Raspberry Pi computer is equiped with a downward facing camera and takes still photos continuously throughout the flight.

0.53kg

Recovery / Misc

Rocketman Parachute (.20kg) and misc rigging (.15kg).
0.35kg
Total Flight Weight
Total neck weight on the balloon.
2.88kg
Balloon / Gas
1200g Kaymont with 5.3cu meters (190cu ft) Helium. Neck lift (4.3kg) / Net lift (1.4kg)
Estimated Burst Altitude
30,000m MSL (98,425')
Estimated Ascent Rate
4.9 m/s (960'/min)
Estimated Descent Rate
7.1 m/s (1400'/min)
Chase Frequencies
440.000MHz
April 14
This is the final set of predictions for the 2015b flight. Based on the variability of both day to day, but also 1200-1500Z soundings, anything is possible. It appears to be bounded by roughly Buhler, McPherson, and Moundridge, most of which is pretty favorable landing targets.
The 1500Z sounding is shown first with a landing just on the eastern edge of Moundridge. Obviously I-135 is a conern, as is the city itself. Scrolling down, you'll find the 1200Z sounding.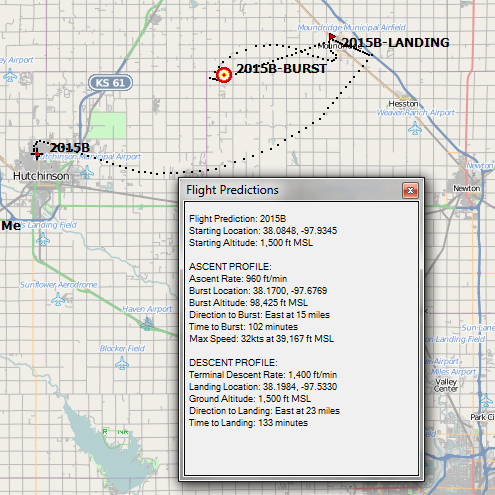 Secondly is the 1200Z prediction which isn't profoundly different, but it does shift the landing back away from the city about four miles.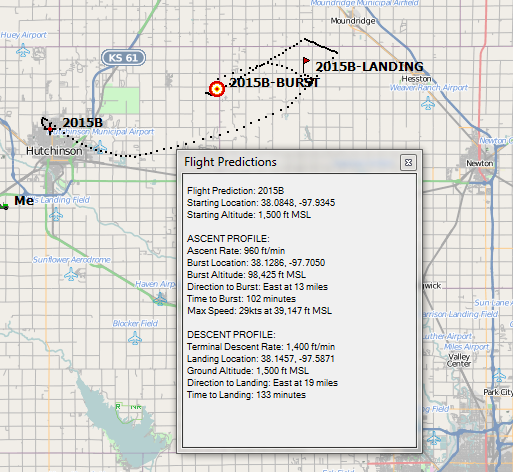 This will be one of our shortest chases regardless of how it pans out. As it is, we are participating in the Global Space Balloon Challenge which is giving away various prizes, and this would seem to be in the running for the closest touch-down.
April 13
Tonight's predictions have been revised with actual flights weights (measured) with the current flight configuration. I'm also basing this on a 1500Z plot, as I don't expect to get airborn until about 1400Z Wednesday morning.
Wednesday morning's surface weather still looks excellent with light winds out of the south. The school will provide an excellent wind break for winds out of the south and east.
April 12
Today's prediction is consistent, although the landing site is not very favorable. Shown below is the 1200Z forecast, and the 1500Z forecast is actually slightly better, pushing west of town and the airport. We still have several days before the launch, and if need be, we'll adjust gas and/or the balloon to avoid McPherson.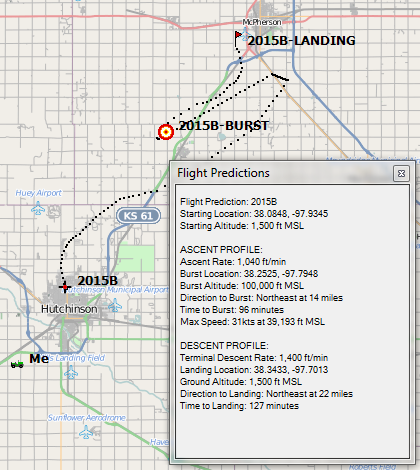 April 11
The max wind speed has decreased to 28 knots whic is making for a short flight. The 1500Z sounding was nearly identical, except that it's landing point was about 2 mile south of Galva. Surface weather still looks to be clear throughout the morning. Winds are expected to be out of the south at roughly 10 knots and increasing throughout the day.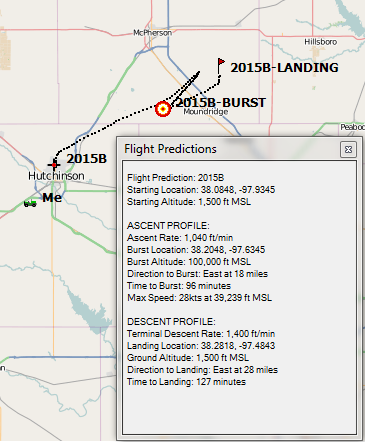 April 10
The track has shifted south slightly, which keeps us further away from I-135. All current projections are favorable for chase and recovery next week.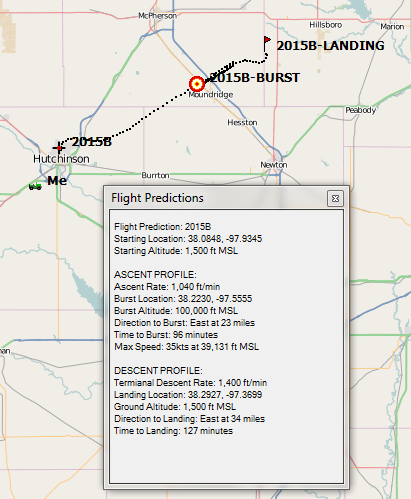 April 9
Very similar track to yesterday's track, heading towards the Canton/Galva area east of McPherson. Shown is the 1200Z plot. The 1500Z plot shows a landing just a few miles north and west of the one shown, but still clear of I-135. Surface weather continues to be favorable, but a bit warm.
April 8
Today's 1200Z prediction has shifted very slightly north and east, but remains consistent with predictions from the 7th. The 1500Z profile was very similar, but stretch even farther northeast, but not by a lot.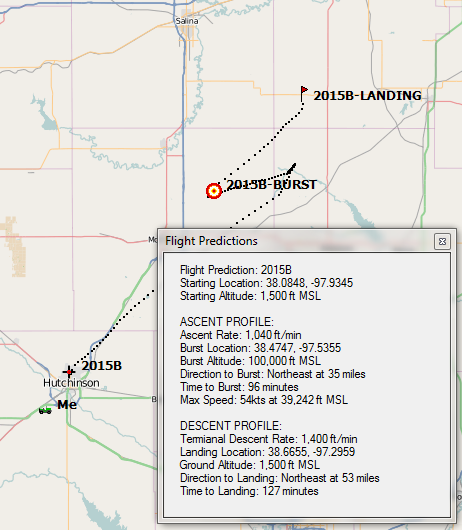 April 7
This morning's track too a dramtic shift to the north, landing just a few miles southwest of Herrington, KS. These forecasts were performed using the 1200Z forecasts, although the launch will actually be closer to 1500Z. I will be using a mixture of these soundings for future predictions for 2015b.
Surface weather forecasts are still favorable for the launch.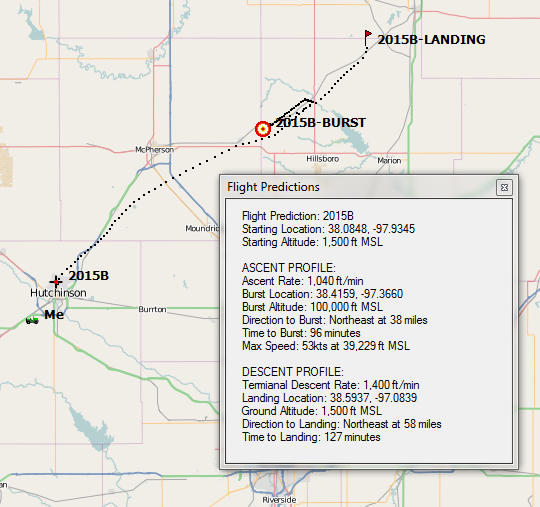 April 6
The track continues to push east and south, although the look of it continues to change.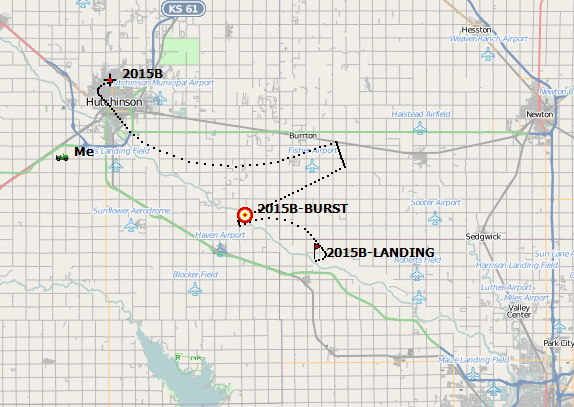 April 4
The track has shifted back towards its original course, and puts out near Eldorado. Peek winds are 45knots at 8246m MSL.
April 3
Today's track takes a dramatically different shift, making for a very close-in chase. Also, the weather forecast that was calling for rain showers has been replaced by warm and sunny skies.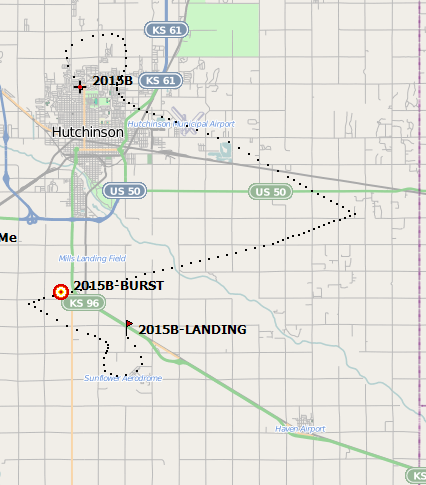 April 2
Same easterly track with a high level shift back to the west. Today's plot shows an increasingly southern component. The long-range weather forecast now indicates that we could be looking at possible showers, although that's still two weeks out.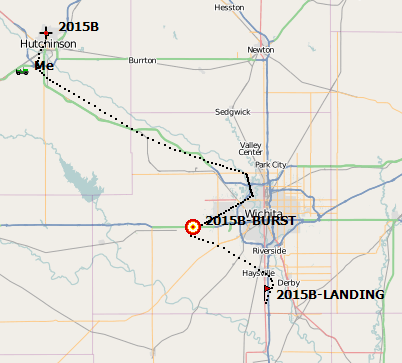 March 31
We're still following the same general track tonight, although it is elongated significantly. I am using the 1800Z sounding forecast instead of the 1200Z that was used on the 30th's forecast.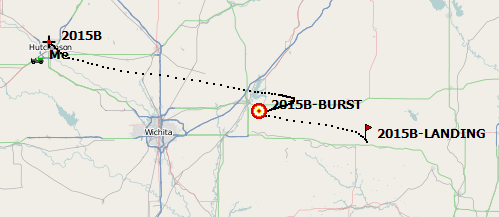 March 30
Flight 2015b's initial prediction is showing a short chase, basically following K-96 towards Wichita. The long-range weather forecasts are showing favorable flight conditions in the morning, although it will be chilly.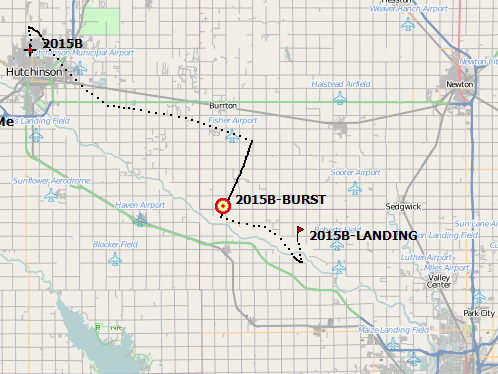 Launch Date/Time
Wednesday, April 15th at 8:35am (13:35Z)
Launch Site
Morgan Elementary School in Hutchinson (

38.0848N, -97.9345W

)
Burst Altitude
30,860m MSL (101,247')
Average Ascent Rate
4.76 m/s (937'/min)
Measured Descent Rate
6.96 m/s (1370'/min) with a very little latex attached and some chute fouling. Shrouds were 75% open
Touchdown Site
38.2745N, -97.7165W
Touchdown Time

Wednesday, April 15th

at 10:51am (15:51Z)
Recovery Time

Wednesday, April 15th

at 10:52am (15:52Z)
Distance Traveled
27km (17mi)
Total Flight Time
2 hours, 16 minutes
Downloads
W0ZC-11.txt, W0ZC-12.txt, W0ZC-13.txt, W0ZC-13.csv, W0ZC-13.kml, Wind Forecast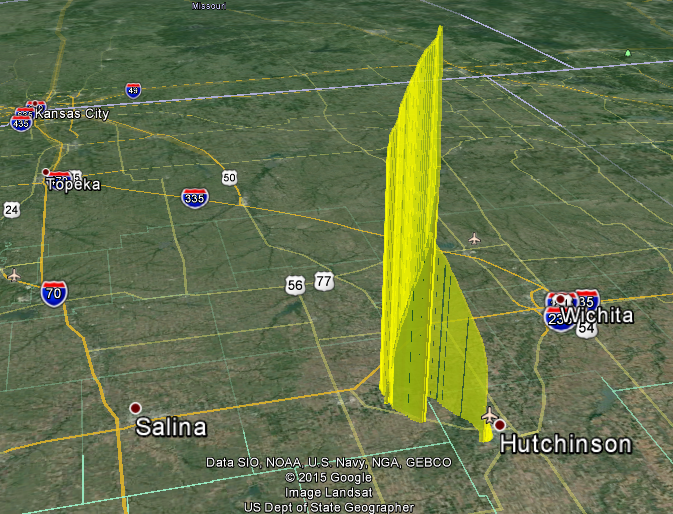 The weather was wonderful for a launch this morning. Skies were broken at the time of launch and quickly turned to overcast for the duration of the flight.
The Canon A570IS worked flawlessly as expected. The Canon A2300 worked for a while, but eventually shut down on its own for no apparent reason. The GoPro camera worked flawlessly all of the way up and back down, however the load line got wrapped around the camera during the initial part of the descent and moved the camera down into the package. The Raspberry Pi worked flawlessly this time, and with the changes made to the script (full-res photos), the results were very gratifying.
The Telit GPS engines were causing problems again on this flight despite hours of ground testing without problem. The W0ZC-12 payload lost its GPS lock suddenly just a couple of minutes before launch. It never restored its position. The second Telit on W0ZC-13 worked great thoughout the flight.
The capsules were arranged from top to bottom:
W0ZC-11 which was an older Inventek GPS, GoPro camera, and Canon A570IS.
W0ZC-12 running the Telit GPS, a Sparkfun 434MHz backup beacon, and a Canon A2300.
W0ZC-13 running the Telit GPS in a Combined mode, and the Raspberry Pi camera
I had tested all three capsules in close proximity to each other for over an hour in the week leading up to the launch. During that testing, the cameras and the back up beacon were not installed.
Metal objects in very close proximity to the GPS antenna (~1cm) have been observed to cause lock problems, but I don't believe that anything was shifting around inside of the capsule in the minutes leading up to launch. However, all four cameras were turned on about the time that we lost GPS lock.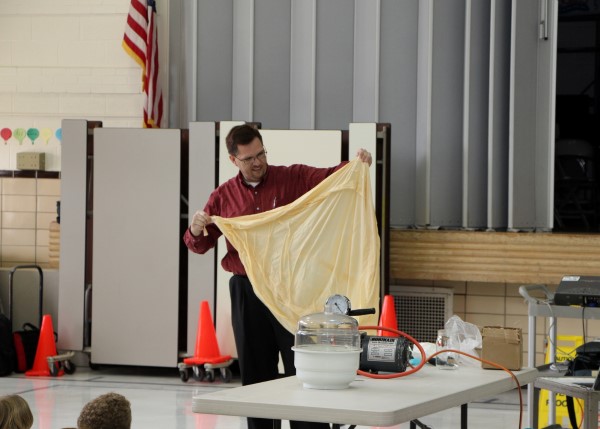 Working with the 5th graders to show the science behind weather balloons. Here we're examining one of the latex weather balloons like what was flown on 2015b.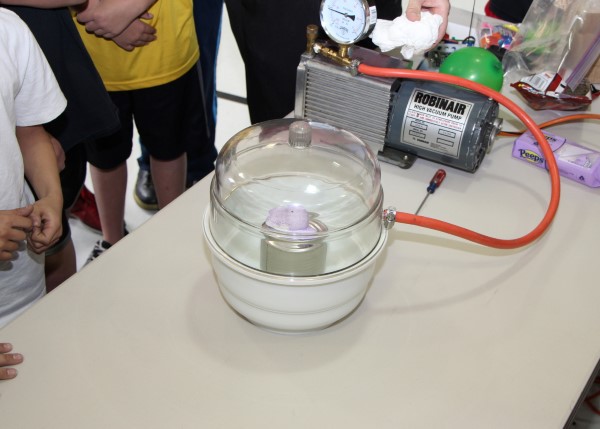 Using a vacuum chamber, we were able to simulate the effects of near-space on various things such as the balloon, the parachute, and (potentially) the human body. In the photo we were putting a Peep under vacuum to explore the affect that it has on objects that are cellular in nature (marshmellows closely resemble this behavior.)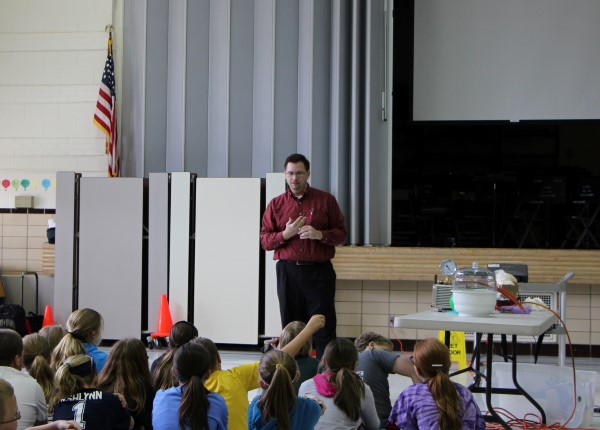 Answering questions about near-space and science for the 5th graders.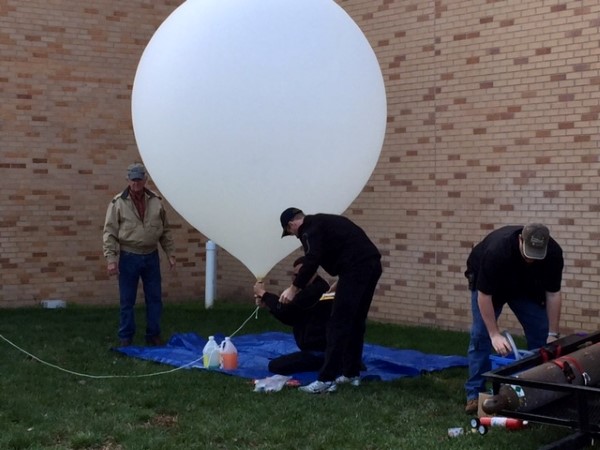 Filling the balloon with 200 cubic feet of Helium gas.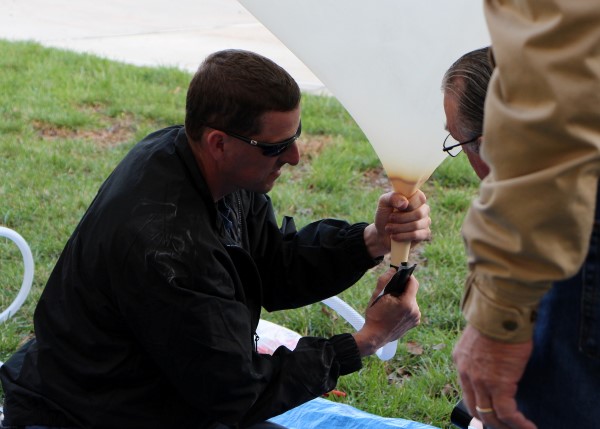 After we were finished filling the balloon, the neck was tied off and our Flight String was attached.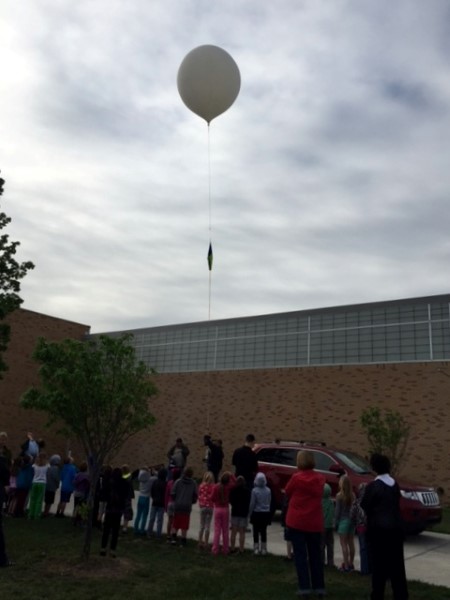 Raising the balloon into the sky, getting ready for release.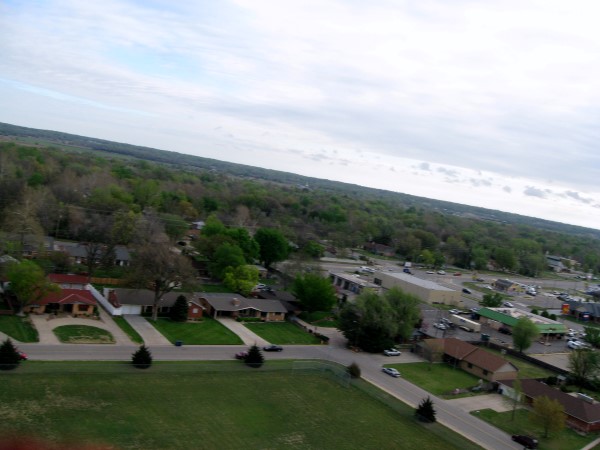 Just after releasing from Morgan Elementary.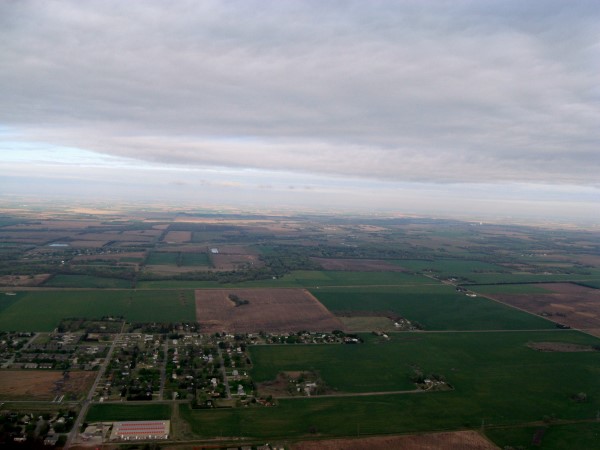 On the north side of Hutchinson, about 1000' into the sky.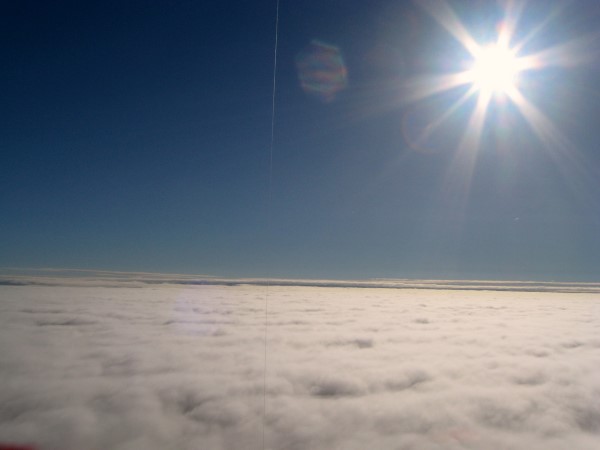 Breaking through the overcast cloud deck over Hutch. The string running verticle was a piece of kite string that got caught during the launching process.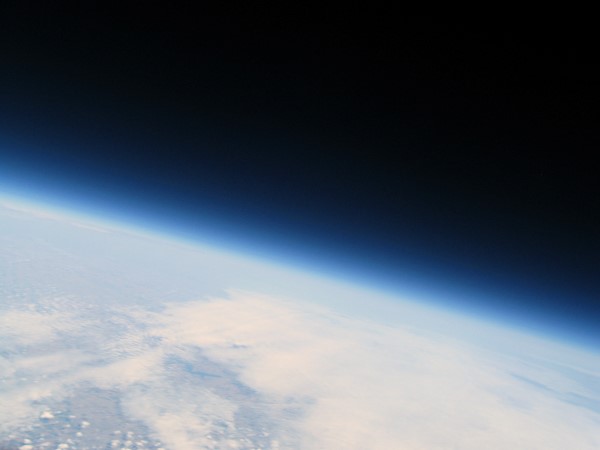 Taken from near space, somewhere around 90,000'.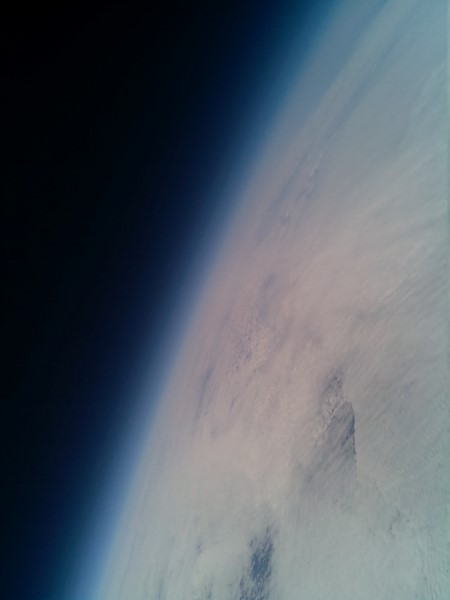 A photograph taken seconds after burst above 90,000'. This photo was taken with the downward facing Raspberry Pi camera. The violence of the initial fall resulted in several photographs being taken of the horizon.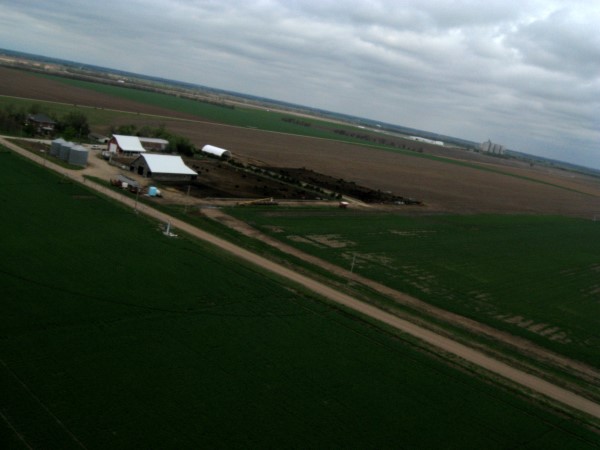 The final photo before touching down. Our chase vehicles were just out of frame to the left. Danny (dressed in black) can actually be seen running along the road near the farm house try to catch the balloon.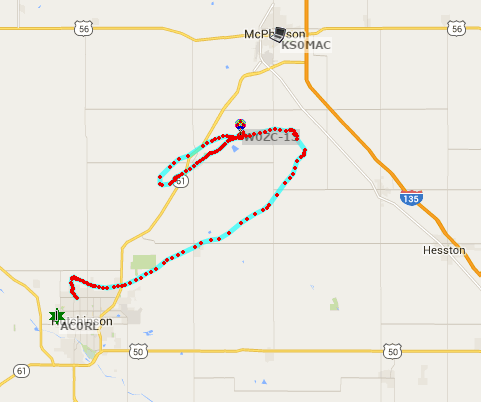 Danny retrieved the packages from the field and brought them back to the road to be untangled. The lanyard line that was released with the balloon made a mess of things, but didn't really cause any damage.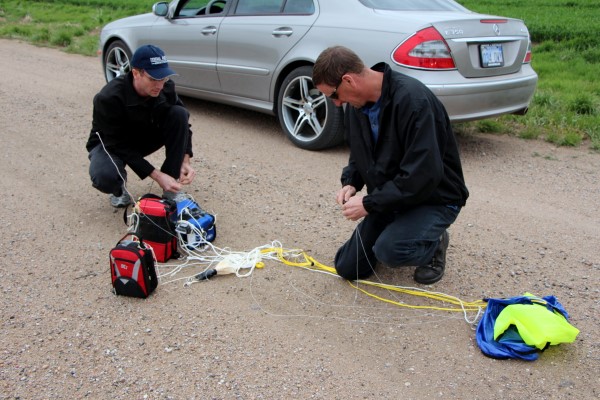 Sorting out the mess.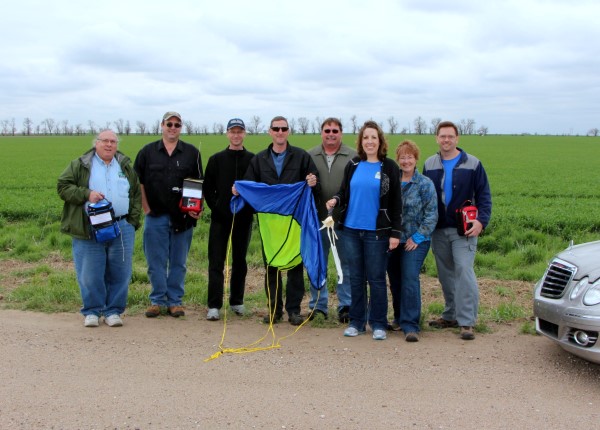 The chase team after recovering the payloads from the field behind us.
More photos can be found in the Photo Gallery, Flight 2015b.