The first flight of the 2004 season is to be used to continue testing our cutdown device and our light-weight package configuration.
Flight Parameters
Launch Date/Time

Saturday, 21 February 2004 at 8:00am

Alternative Date

Saturday, 28 February 2004 at 8:00am

Launch Site

East fairgrounds parking lot near Fairgrounds Pool (38° 04.6'N, 97° 54.9'W) in Hutchinson, KS

Primary Transmitter / Antenna

VX-1R HT running APRS on 144.39MHz / Vertically polarized dipole

Backup Transmitter / Antenna

Keyed oscillator on 147.55MHz (no modulation) / Horizontally polarized dipole

Balloon / Gas

Kaysam 600gram / 110 cu feet of Helium

Estimated Burst Altitude

102,000' MSL

Estimated Ascent Rate

950' per minute

Estimated Descent Rate

Approx. 1100' per minute at touchdown

Capsule(s) weight

3lb 0oz (1360g) including parachute, rigging, batteries, etc...

Chase Frequencies

146.52MHz, 7.2535MHz

Cameras/Film

Canon Elph LT APS camera with 25 exposures of ISO400 speed film.

Balloon Finder Telemetry Mode

PT Mode 2
Flight Results
A beautiful February morning with highs in the 50's by the time we got out to recover the capsule. Overall the flight was good, but we had some issues with the tug configuration and the cutdown device.
Flight Statistics
Launch Date/Time
Saturday, 21 February at 8:42am
Launch Site
East fairgrounds parking lot near Fairgrounds Pool (38º 04.6'N, 97º 54.9'W) in Hutchinson, KS
Burst Altitude
About 83,979ft (25,597m) MSL
Average Ascent Rate
825ft/min (4.19m/s)
Measured Descent Rate
1154ft/min (5.86m/s)
Touchdown Site
2 miles east of Madison, KS (38º 08.2516'N, 96º 04.1458'W)
Touchdown Time
Saturday, 21 February, 2004 at 11:00am
Recovery Time
Saturday 21 February, 2004 at 11:22am
Distance Traveled
101 miles (162km) as the crow flies
Total Flight Time
2 hours 18 minutes
Downloads
Lat/Lon File, Log File, Flight Analysis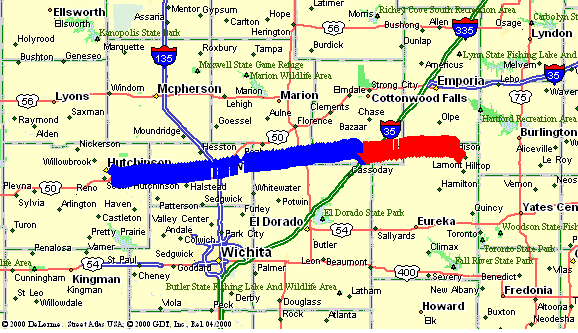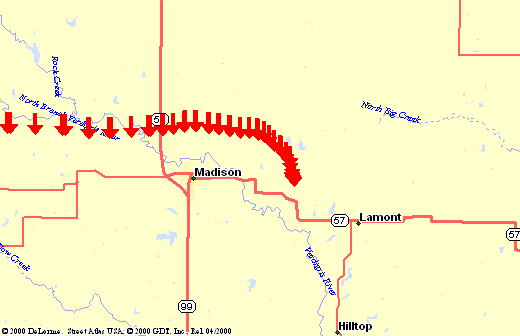 Lessons Learned
The cutdown device somehow became active as soon as the unit was armed. We're not totally sure how this happened - there were no indications that the main controller board activated cutdown mistakenly. It is possible that the cutdown was left in an active state following some testing the night before.
It can be difficult to determine that the cutdown is active (when arming) until it's too late. We will be including a piezo across the cutdown coil for audible confirmation that it is not cutting.
We still had some sun glare around the camera. We had a single shade over the top of the camera, but apparently need a hood the totally encloses the camera.
The dual balloon configuration did not perform as expected. This may have been partially due to insufficient lift in the "tug" balloon. During liftoff, it appeared that the main balloon almost appeared to be dragging the tug behind it. If the tug configuration is to be used in the future, the tug should have nearly as much lift as the main balloon to keep the lines taunt.
There was no perceivable change in ascent rate when the tug burst (i.e. we can't tell when exactly it burst). This again was probably due to insuffient lift from the tug.
We are beginning to see more and more activity on the standard 144.39MHz frequency. We will probably need to switch to an alternate frequency of 144.34 in the near future.